Tabletop RPGs
This page provides links to information that will help you play and enjoy Savage Worlds. Accessories AdventuresOfficial Pinnacle / Explorer Society Adventures - Free adventures from the publisher of Savage Worlds.Licensee / Fan-made Adventures - Free adventures from licensee and fans.AdviceSavage Odds - A [[#|statistical analysis]] of probabilities based on die types and target numbers. Has info on extras as well as wild cards.Savage Worlds Probability Calculator - Probability calculator for success, raises and critical failures, for extras, Wild Cards and Righteous Rage.Rules Questions for SW Settings - A handy FAQ for Savage Settings.What is a Plot Point Campaign?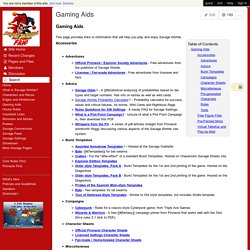 savagepedia - Gaming Aids
This is the home of the 13th Age / Archmage Engine system reference document. It contains all the open content from the 13th Age RPG – the Archmage Engine. Whether you are a publisher or a gamer, you can use this under the terms of the Open Gaming License.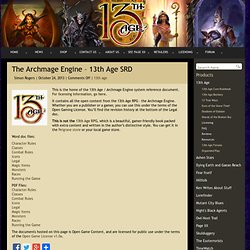 Pelgrane Press Ltd » Blog Archive » The Archmage Engine – 13th Age SRD
Random tables for RPGs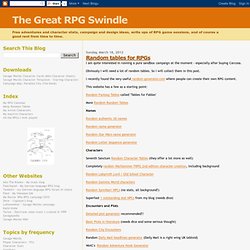 I am quite interested in running a pure sandbox campaign at the moment - especially after buying Carcosa. Obviously I will need a lot of random tables. So I will collect them in this post. I recently found the very useful random-generator.com where people can create their own RPG content. This website has a few as a starting point: Random Fantasy Tables called "Tables for Fables"
Lenny pointed me toward this Escapist article, and boy, howdy! is this thing awesome! PlaGMaDA, which is perhaps the best acronym ever concieved by human beings, is a living archive of old RPG material. I'm not talking about actual published games here; those things are already out there. What PlaGMaDA (Play Generated Map and Document Archive, in case you were curious) seeks to do is compile as many play-generated artifacts (maps, character sheets, and so forth) from peoples' home games as possible, and to preserve them for future generations to enjoy.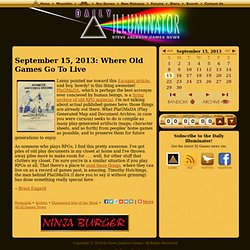 Daily Illuminator: Where Old Games Go To Live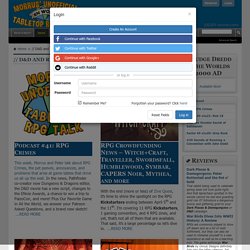 Pathfinder RPG News The Encounter Table has interviewed Paizo's James Jacobs about the upcoming Iron Gods adventure path. It's a great, lengthy interview chock-full of information, and well worth the read. Steve Kenson: ICONic Game Designer
True20 Adventure Roleplaying: True fun, true excitement, true adventure, True20!
Dragon's Lair Comics & Fantasy® Green Ronin Publishing Anniversary: Party: noon-4 p.m. Sunday, Oct. 3, 2010 14725 NE 20th St., Suite A, in Bellevue, Wash.; 425.562.2025www.dlair.net Guests Invited to Enjoy Exciting Game Demos, Q-and-A, Raffle, Special Sales, Cake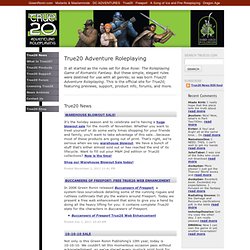 Ben got the itch to brew up another treasure item for an upcoming encounter. The brilliant RPG minds at the Old School Gamers Facebook club served up a slew of ideas and quirks to aid in the forging of this mischievous booty. Let's see how it all flushed out. What? Why? The sudden desire for a new magic item stems from DM Ben's desire to raise the Party's combat difficulty.
Ben's RPG Pile
Fantasy Name Generator - Online Tools - Phillip Riley's Homepage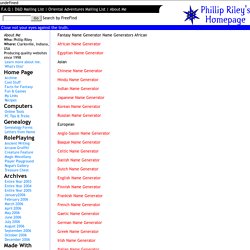 undefined F.A.Q | D&D Mailing List | Oriental Adventures Mailing List | About Me Search by FreeFind
Technohol 13: Marvel Super Heroes RPG (Classic & Saga) Source Material
Thursday, April 17, 2014 (posted April 9th, 2014) Hello, and welcome to Technohol 13: Year 17! Yes, exactly seventeen years ago today, I went public with this particular site, a sort of storehouse for a lot of things I'd posted to various e mail lists over the years. And boy, how it's grown since then!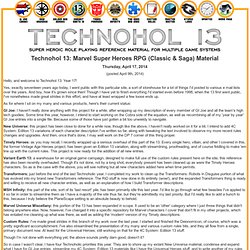 sup/tg/ - Maid RPG Character Generator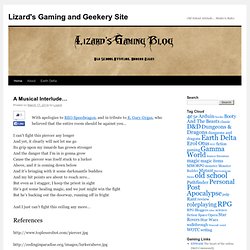 Yeah, I'm hyping the crap out of my new book. If you like this story, you'll probably like the above book. If you don't like this story, erm, you'll still probably like the above book, 'cause it's, uhm, totally different and stuff. I feel like Gil from "The Simpsons".
Lizard's Gaming and Geekery Site | Old School Attitude? Modern Rules
From the Dungeon to the Dictionary I recently received an e-mail from a correspondent who noted that my list of forms of government lacked the word magocracy . I was slightly bewildered that it was not there, for two reasons.
From the Dungeon to the Dictionary
Weight loss supplements are still a taboo for many people out there. While some of them have tried them and thought that they were not giving any kind of result, other believe them to be miraculous. At the same time, while some of the people out there believe they are perfectly safe to use, others believe that they are dangerous for their health. The truth is somewhere in the middle and it all depends on the ingredients contained by the best fat burners out there, as well as on the way the body of that person who takes them functions. There may be ingredients that can become dangerous when combined with certain diet pill ingredients, while there may be people who are simply sensitive to a certain ingredient. All of these things can influence whether or not the Best fat burners on the market will give results or not.
Role Play Media Network - a community for rpg bloggers, podcasters, vidcasters, and their audiences