Tabletop RPGs
Thetravellersrd. Savagepedia - Gaming Aids. This page provides links to information that will help you play and enjoy Savage Worlds.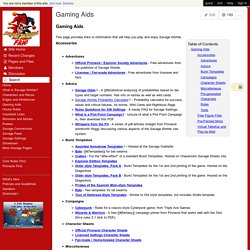 Accessories AdventuresOfficial Pinnacle / Explorer Society Adventures - Free adventures from the publisher of Savage Worlds.Licensee / Fan-made Adventures - Free adventures from licensee and fans.AdviceSavage Odds - A [[#|statistical analysis]] of probabilities based on die types and target numbers. Has info on extras as well as wild cards.Savage Worlds Probability Calculator - Probability calculator for success, raises and critical failures, for extras, Wild Cards and Righteous Rage.Rules Questions for SW Settings - A handy FAQ for Savage Settings.What is a Plot Point Campaign?
Pelgrane Press Ltd » Blog Archive » The Archmage Engine – 13th Age SRD. This is the home of the 13th Age / Archmage Engine system reference document.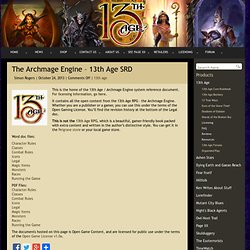 For licensing information, go here. It contains all the open content from the 13th Age RPG – the Archmage Engine. Random tables for RPGs. I am quite interested in running a pure sandbox campaign at the moment - especially after buying Carcosa.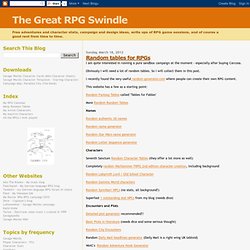 Obviously I will need a lot of random tables. So I will collect them in this post. I recently found the very useful random-generator.com where people can create their own RPG content. This website has a few as a starting point: Random Fantasy Tables called "Tables for Fables" Daily Illuminator: Where Old Games Go To Live. Lenny pointed me toward this Escapist article, and boy, howdy!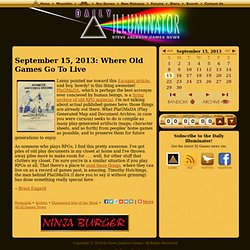 Is this thing awesome! PlaGMaDA, which is perhaps the best acronym ever concieved by human beings, is a living archive of old RPG material. I'm not talking about actual published games here; those things are already out there. What PlaGMaDA (Play Generated Map and Document Archive, in case you were curious) seeks to do is compile as many play-generated artifacts (maps, character sheets, and so forth) from peoples' home games as possible, and to preserve them for future generations to enjoy. EN World RPG News & Reviews - Morrus' Daily News Blog.
True20 Adventure Roleplaying: True fun, true excitement, true adventure, True20! 3 | HeroMachine Comics Blog. Ben's RPG Pile.
Mapping
Table Top Gaming. Fantasy Name Generator - Online Tools - Phillip Riley's Homepage. Undefined F.A.Q | D&D Mailing List | Oriental Adventures Mailing List | About Me Search by FreeFind.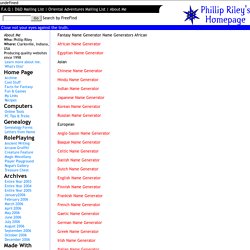 Technohol 13: Marvel Super Heroes RPG (Classic & Saga) Source Material. Old School. D&D 3.5/PF.
Sup/tg/ - Maid RPG Character Generator. Rpg. Lizard's Gaming and Geekery Site | Old School Attitude? Modern Rules. GURPS. From the Dungeon to the Dictionary. From the Dungeon to the Dictionary I recently received an e-mail from a correspondent who noted that my list of forms of government lacked the word magocracy .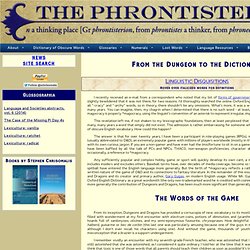 I was slightly bewildered that it was not there, for two reasons. Inkwell Ideas. Role playing game tools and articles. AnyDice. Role Play Media Network - a community for rpg bloggers, podcasters, vidcasters, and their audiences. Roleplaying Games & More.
---