Videos and articles to use in classes
MCGetBizzy : THESE PLUMBERS AINT LOYAL ... Princesa Leia está aprendiendo a ser una más de las princesas de Disney #Video #Humor. Blanca Nieves, Cenicienta, Aurora, Belle y Ariel tratan de ayudar a la princesa Leia a dar sus primeros pasos como nueva princesa de Disney y para ello lo hacen con su estilo, a través de un musical, propio de Disney World.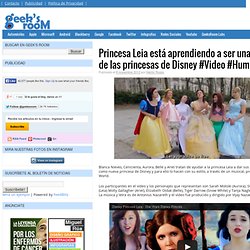 Los participantes en el vídeo y los personajes que representan son Sarah Moliski (Aurora). Stephanie Kenna (Leia) Molly Gallagher (Ariel), Elizabeth Oldak (Belle), Tiger Darrow (Snow White) y Tanja Nagler (Cinderella) La música y letra es de Antonius Nazareth y el vídeo fue producido y dirigido por Vijay Nazareth. [Vía Yo Geek Tu Chita] Hector Russo es Fundador y Editor en Jefe de GeeksRoom. Desde hace 22 años está radicado en Dallas, Texas y desde mucho antes se dedicó a la Tecnología de la Información. El día que Batman…. Badman por error descubrió su identidad #Humor #Video. La gente de College Humor continúa con sus videos graciosos y esta vez le toca el turno a Batman tratando de ridiculizar el dramatismo que trae consigo la última de las versiones del héroe del Cine y la TV.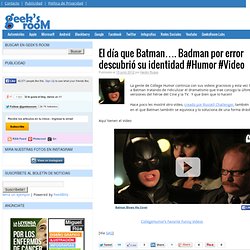 Y que bien que lo hacen! Hace poco les mostré otro vídeo, creado por Russell Challenger, también muy gracioso en el que Batman también se equivoca y lo soluciona de una forma drástica. Las publicidades antiguas más machistas, racistas e insólitas… Viejas publicidades que hoy estarían prohibidas… Cuanto más duro trabaje una esposa, más hermosa se verá.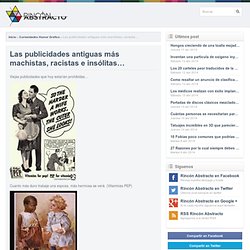 (Vitaminas PEP) ¿Tu mamá no te lava con jabón Fairy? (Jabón Fairy) Vamos a usar "Chlorinol" y ser como el negro blanco (Cloro Chlorinol) Food etiquette rules that might surprise you. (Illustration by Edwin Fotheringham) You have good manners, right?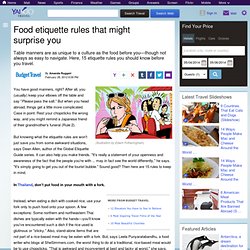 After all, you (usually) keep your elbows off the table and say "Please pass the salt. " But when you head abroad, things get a little more complicated. Case in point: Rest your chopsticks the wrong way, and you might remind a Japanese friend of their grandmother's funeral (Rule 2). But knowing what the etiquette rules are won't just save you from some awkward situations, says Dean Allen, author of the Global Etiquette Guide series. Que difícil es hablar el español. Hilarious Colombian Hand Gestures. Facebook Parenting: For the troubled teen.
Lily's Disneyland Surprise! Watch Out! 10 Interview Questions Designed to Trick You | Secrets to Your Success. The 40 Best Protest Signs Of 2011. Who Knew.
---