Wordpresstemplate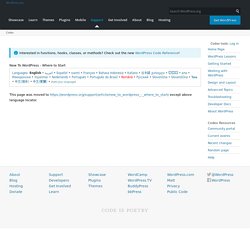 New To WordPress - Where to Start Languages: English • العربية • Español • suomi • Français • Bahasa Indonesia • Italiano • 日本語 • ქართული • 한국어 • Македонски • Nederlands • Português do Brasil • Română • Русский • Slovenčina • Slovenščina • ไทย • 中文(简体) • 中文(繁體) • (Add your language) If you are new to WordPress, here is a step-by-step plan for getting started. If you need help along the way, plenty of options for assistance are listed in this article. Welcome to the exciting world of WordPress!
Lessons
8 Top Tips for Wordpress Theme development » James Whittaker
Update: We've created a second edition of this popular tutorial! It contains updated code samples, coverage of the latest theme development techniques, and more. Check it out at The ThemeShaper WordPress Theme Tutorial: 2nd Edition. In only 11 individual lessons this WordPress Theme Tutorial is going to show you how to build a powerful, up-to-date, WordPress Theme from scratch. As we go along I'll explain what's happening including (for better or worse) my thinking on certain techniques and why I'm choosing one path over another.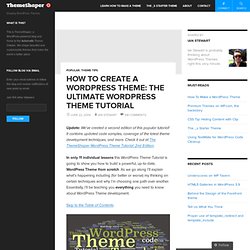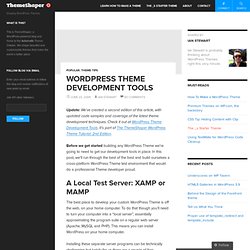 Update: We've created a second edition of this article, with updated code samples and coverage of the latest theme development techniques. Check it out at WordPress Theme Development Tools. It's part of The ThemeShaper WordPress Theme Tutorial: 2nd Edition. Before we get started building any WordPress Theme we're going to need to get our development tools in place. In this post, we'll run through the best of the best and build ourselves a cross-platform WordPress Theme test environment that would do a professional Theme developer proud.
WordPress Theme Development Tools
Wordpress Theme Development Frameworks - Smashing Magazine
Advertisement If you build and develop WordPress themes often, you will probably be fed up of all the repetitive code writing, the constantly checking of your mark-up and all you really want to do is focus on the design and the project-specific features. The answer is a WordPress development framework.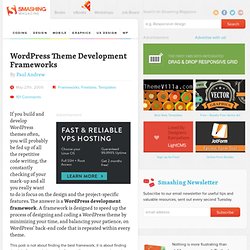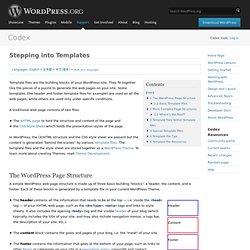 Stepping into Templates Languages: English • 日本語 • 中文(简体) • (Add your language) Template files are the building blocks of your WordPress site. They fit together like the pieces of a puzzle to generate the web pages on your site. Some templates (the header and footer template files for example) are used on all the web pages, while others are used only under specific conditions.
Theme Development Languages: বাংলা • English • Español • 日本語 • 한국어 • Português do Brasil • Русский • 中文(简体) • 中文(繁體) • (Add your language) This article is about developing WordPress Themes. If you wish to learn more about how to install and use Themes, review Using Themes. This topic differs from Using Themes because it discusses the technical aspects of writing code to build your own Themes rather than how to activate Themes or where to obtain new Themes.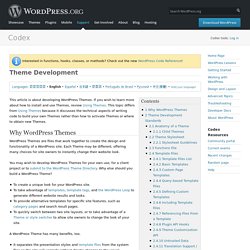 Free wordpress theme - PrimePress | Free Wordpress Themes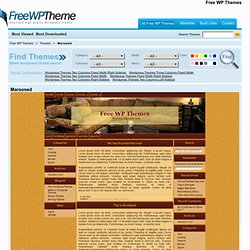 FreeWordpressTheme.info Wordpress has been the top of the line and used blogging software for several years now. It is transcribed in php terms and functions on MySql database.
An increasing number of businesses and website owners are using blogs as a means of communication with their customers and website visitors. If your business already has a website it is possible to have a blog that matches the look and feel of your existing website without doing a complete re-design and without paying thousands of dollars to have the blog developed. Using WordPress you can tailor an already existing blog theme to seamlessly flow with the rest of your website. Looking for hosting? WPEngine offers secure managed WordPress hosting. You'll get expert WordPress support, automatic backups, and caching for fast page loads.
Customize Your Own WordPress Theme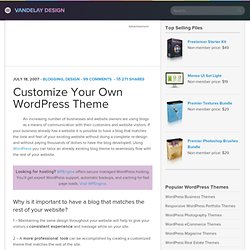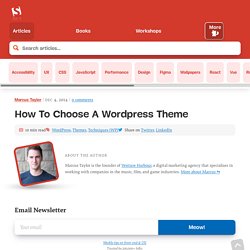 Advertisement High-quality WordPress themes always come in handy. Whether you are looking for some design inspiration or professional coding solutions — in both cases you can learn a lot, you can apply them and you can build customized designs upon them without reinventing the wheel all the time. In this article we present 100 free high-quality WordPress themes.
100 Excellent Free WordPress Themes | Developer's Toolbox | Smashing Magazine