Twitter
Twittersheep. Send any media or content you want to all your twitter followers. Tweets in Perpetuity. Sign petitions using twitter. Terrorists may use Google Earth, but fear is no reason to ban it. It regularly comes as a surprise to people that our own infrastructure can be used against us.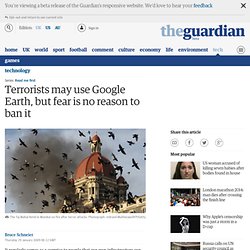 And in the wake of terrorist attacks or plots, there are fear-induced calls to ban, disrupt or control that infrastructure. According to officials investigating the Mumbai attacks, the terrorists used images from Google Earth to help learn their way around. This isn't the first time Google Earth has been charged with helping terrorists: in 2007, Google Earth images of British military bases were found in the homes of Iraqi insurgents. Technology Twitter. Cogdoghouse - TwitterCycle. TwittBot. Real time search – Google launch today « Lucacept – intercepting the Web. Just last night I wrote about why a company like Google would be interested in the real time search offered by services like Twitter.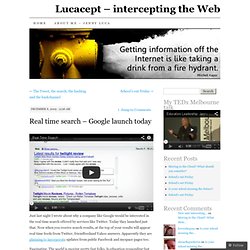 Today they launched just that. Now when you receive search results, at the top of your results will appear real time feeds from Twitter, friendfeedand Yahoo answers. Farmers turn to Twitter to market their produce - 22/09/2010. Twtcard :: a simple greeting card twitter app. Twimemachine - Easily browse through your old tweets. Advanced Twitter Tips, Tricks and Tools.
Twitter in Higher Education. Twitter Tips Ultimate Guide | Using social media to guide and help you connect to social networks: Twitter, Facebook, Google, LinkedIn, YouTube using social media. By admin Tuesday, June 4, 2013 Social media has become one of the popular platforms for any company to advertise their products and services.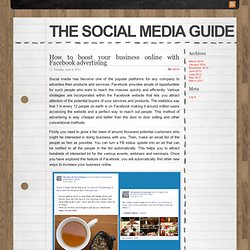 The Ultimate Twitter Toolkit - Reviews by PC Magazine. Familiarize yourself with these powerful Twitter tools to become a Master Tweeter.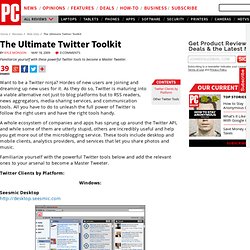 Want to be a Twitter ninja? Hordes of new users are joining and dreaming up new uses for it. The Top 7 types of Twitter avatars :: 10,000 Words :: multimedia, online journalism news and reviews. Wired Campus: A Professor's Tips for Using Twitter in the Classroom - Chronicle.com. Telstra lays down the law on Twitter - Technology - smh.com.au. Top Tips for Twitter Newbs « Phil Wain. Being a Twitter newb myself, I might be better or worse placed to give tips.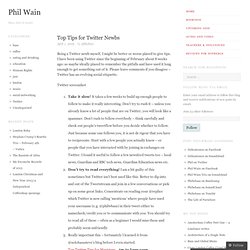 I have been using Twitter since the beginning of February about 8 weeks ago: so maybe ideally placed to remember the pitfalls and have used it long enough to get something out of it. Please leave comments if you disagree – Twitter has an evolving social etiquette. Take it slow! It takes a few weeks to build up enough people to follow to make it really interesting. Don't try to rush it – unless you already know a lot of people that are on Twitter, you will look like a spammer. Top 13 Twitter Don'ts - Features by PC Magazine. Twitter gets you fired in 140 characters or less - Technotica - MSNBC.com. Why waste valuable social networking hours getting yourself "Facebook fired," when Twitter allows you to humiliate yourself quickly, and in 140 characters or less?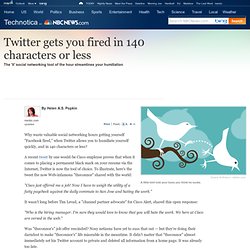 A recent tweet by one would-be Cisco employee proves that when it comes to placing a permanent black mark on your resume via the Internet, Twitter is now the tool of choice. To illustrate, here's the tweet the now Web-infamous "theconnor" shared with the world: Why you should use Twitter, and how best to use it. Video Tutorial: Basics of How to Use Twitter. Five Interesting Ways to use Twitter in the Classroom.
Twitter - little conversations across the globe. If Twitter was an animal it would be a honey bee. i.e. shows up everywhere, busily pollinating as it goes.
Twitter is an extraordinary free service that allows use to share short messages (limited to 140 characters) from your computer or by SMS from your mobile phone. The platform allows you to follow or subscribe to messages (called tweets) from other twitter users. By searching Twitter for keywords in your areas of interested.
Twitter took off from simple to 'tweet' success. By Jefferson Graham, USA TODAY SAN FRANCISCO — "What are you doing?
" That question is the rocket fuel for Twitter — a hot social-network service that lets you tell people what you are up to at any given moment of the day — via cellphone, instant messenger, or the Web. Never heard of it, you say? "What are you doing? " Twitter in plain english.
---