Twitter
My First Follow
send any media or content you want to all your twitter followers
Tweets in Perpetuity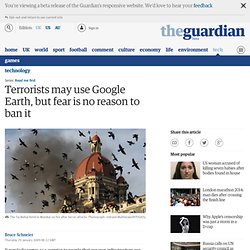 Terrorists may use Google Earth, but fear is no reason to ban it
The Taj Mahal Hotel in Mumbai on fire after terror attacks. Photograph: Indranil Mukherjee/AFP/Getty It regularly comes as a surprise to people that our own infrastructure can be used against us. And in the wake of terrorist attacks or plots, there are fear-induced calls to ban, disrupt or control that infrastructure.
Technology Twitter
cogdoghouse - TwitterCycle
TwittBot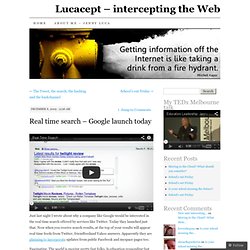 Just last night I wrote about why a company like Google would be interested in the real time search offered by services like Twitter. Today they launched just that. Now when you receive search results, at the top of your results will appear real time feeds from Twitter, friendfeedand Yahoo answers.
Real time search – Google launch today « Lucacept – intercepting the Web
Farmers turn to Twitter to market their produce - 22/09/2010
Advanced Twitter Tips, Tricks and Tools on Vimeo
Twitter in Higher Education
Twitter Tips Ultimate Guide | Using social media to guide and help you connect to social networks: Twitter, Facebook, Google, LinkedIn, YouTube using social media
Facebook have finally rolled out Timeline for Pages. Here is the ultimate guide, enjoy! Cover Photo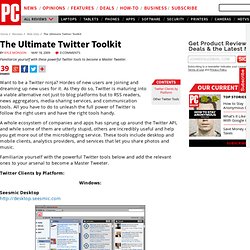 The Ultimate Twitter Toolkit - Reviews by PC Magazine
Familiarize yourself with these powerful Twitter tools to become a Master Tweeter. Want to be a Twitter ninja? Hordes of new users are joining and dreaming up new uses for it.
The Top 7 types of Twitter avatars :: 10,000 Words :: multimedia, online journalism news and reviews
Wired Campus: A Professor's Tips for Using Twitter in the Classroom - Chronicle.com
Telstra lays down the law on Twitter - Technology - smh.com.au
Top Tips for Twitter Newbs « Phil Wain
Being a Twitter newb myself, I might be better or worse placed to give tips. I have been using Twitter since the beginning of February about 8 weeks ago: so maybe ideally placed to remember the pitfalls and have used it long enough to get something out of it.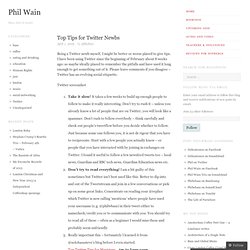 Top 13 Twitter Don'ts - Features by PC Magazine
Why waste valuable social networking hours getting yourself "Facebook fired," when Twitter allows you to humiliate yourself quickly, and in 140 characters or less? A recent tweet by one would-be Cisco employee proves that when it comes to placing a permanent black mark on your resume via the Internet, Twitter is now the tool of choice. To illustrate, here's the tweet the now Web-infamous "theconnor" shared with the world: "Cisco just offered me a job! Now I have to weigh the utility of a fatty paycheck against the daily commute to San Jose and hating the work." It wasn't long before Tim Levad, a "channel partner advocate" for Cisco Alert, shared this open response:
Twitter gets you fired in 140 characters or less - Technotica - MSNBC.com
Why you should use Twitter, and how best to use it.
Video Tutorial: Basics of How to Use Twitter
Twitter - little conversations across the globe
If Twitter was an animal it would be a honey bee.
Twitter took off from simple to 'tweet' success
twitter in plain english