Web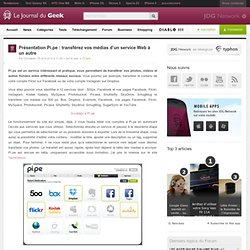 Pi.pe est un service intéressant et pratique, vous permettant de transférer vos photos, vidéos et autres fichiers entre différents réseaux sociaux. Vous pourrez par exemple, transférer le contenu de votre compte Flickr sur Facebook ou de votre compte Instagram sur Dropbox. Vous allez pouvoir vous identifier à 12 services dont : 500px, Facebook et vos pages Facebook, Flickr, Instagram, Kodak Gallery, MySpace, Photobucket, Picasa, Shutterfly, SkyDrive, SmugMug et transférer vos médias sur 500 px, Box, Dropbox, Evernote, Facebook, vos pages Facebook, Flickr, MySpace, Photobucket, Picasa, Shutterfly, Skydrive, SmugMug, SugarSync et YouTube. Accédez à Pi.pe Le fonctionnement du site est simple, déjà, il vous faudra relier vos comptes à Pi.pe en autorisant l'accès aux services que vous utilisez. Sélectionnez ensuite un service et passez à la deuxième étape qui vous permettra de sélectionner un ou plusieurs dossiers à exporter.
Présentation Pi.pe : transférez vos médias d'un service Web à un autre
Eurocopter Tiger - InfoRapid Knowledge Portal
Mp3Sparks.com Two years ago the Internet's biggest ever protest killed the hugely controversial anti-piracy legislation SOPA. Speaking to studios this week, a prominent UK government intellectual property advisor admitted that the damage caused was so great that it's unlikely that there will be a fresh piracy-focused legislative push for another five years. A man who uploaded a single movie to The Pirate Bay kickstarting South Africa's first online piracy case has been sentenced today. After striking a plea bargain with the state over what was unusually framed as a criminal rather than civil offense, the 29-year-old was handed an unprecedented five-year suspended… Several large "pirate" movie streaming portals are using Google's servers to distribute copyrighted material. More than 18,000 videos are currently publicly available, and requests to Google to remove the files have reportedly gone unanswered.
This means you are using a private torrent tracker or, of course, you may not be a torrent user at all! It happens. Please, entertain yourself. Feel free to see what other people have downloaded. The search box is on the top. If you have any friends who use torrents, use it to scare them off.