Web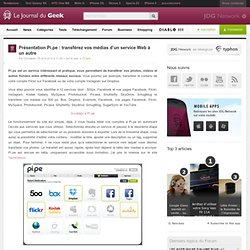 Pi.pe est un service intéressant et pratique, vous permettant de transférer vos photos, vidéos et autres fichiers entre différents réseaux sociaux . Vous pourrez par exemple, transférer le contenu de votre compte Flickr sur Facebook ou de votre compte Instagram sur Dropbox. Vous allez pouvoir vous identifier à 12 services dont : 500px, Facebook et vos pages Facebook, Flickr, Instagram, Kodak Gallery, MySpace, Photobucket, Picasa, Shutterfly, SkyDrive, SmugMug et transférer vos médias sur 500 px, Box, Dropbox, Evernote, Facebook, vos pages Facebook, Flickr, MySpace, Photobucket, Picasa, Shutterfly, Skydrive, SmugMug, SugarSync et YouTube. Accédez à Pi.pe Le fonctionnement du site est simple, déjà, il vous faudra relier vos comptes à Pi.pe en autorisant l'accès aux services que vous utilisez. Sélectionnez ensuite un service et passez à la deuxième étape qui vous permettra de sélectionner un ou plusieurs dossiers à exporter.
Présentation Pi.pe : transférez vos médias d'un service Web à un autre
There were no articles with the name " ". The SNEB rocket (Societe Nouvelle des Etablissements Edgar Brandt) is an unguided air-to-ground rocket projectile (RP) manufactured by the French company TDA Armements, designed for launch by combat aircraft and helicopters. Two other rockets were developed in the and caliber.
Eurocopter Tiger - InfoRapid Knowledge Portal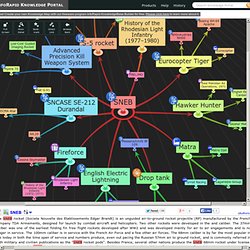 Mp3Sparks.com