Web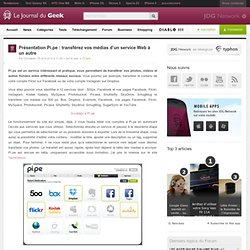 Pi.pe est un service intéressant et pratique, vous permettant de transférer vos photos, vidéos et autres fichiers entre différents réseaux sociaux. Vous pourrez par exemple, transférer le contenu de votre compte Flickr sur Facebook ou de votre compte Instagram sur Dropbox. Vous allez pouvoir vous identifier à 12 services dont : 500px, Facebook et vos pages Facebook, Flickr, Instagram, Kodak Gallery, MySpace, Photobucket, Picasa, Shutterfly, SkyDrive, SmugMug et transférer vos médias sur 500 px, Box, Dropbox, Evernote, Facebook, vos pages Facebook, Flickr, MySpace, Photobucket, Picasa, Shutterfly, Skydrive, SmugMug, SugarSync et YouTube. Accédez à Pi.pe Le fonctionnement du site est simple, déjà, il vous faudra relier vos comptes à Pi.pe en autorisant l'accès aux services que vous utilisez. Sélectionnez ensuite un service et passez à la deuxième étape qui vous permettra de sélectionner un ou plusieurs dossiers à exporter.
Présentation Pi.pe : transférez vos médias d'un service Web à un autre
Eurocopter Tiger - InfoRapid Knowledge Portal
Mp3Sparks.com NewsBits Even more news... DDoS Attack Takes Down EZTVThe popular TV-torrent index EZTV has been offline for more than a day. TorrentFreak reached out... Politicians Increasingly Targeted for InfringementSupporter of copyright law or not, targeting politicians for copyright violations is becoming more common these... BitTorrent Sync 7 Times Faster Than DropboxBitTorrent Sync is a relatively new tool that allows users to securely sync folders across multiple...
This means you are using a private torrent tracker or, of course, you may not be a torrent user at all! It happens. Please, entertain yourself. Feel free to see what other people have downloaded. The search box is on the top. If you have any friends who use torrents, use it to scare them off.