GIS Data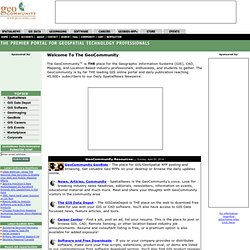 GeoCommunity GeoBids - The place for GIS/GeoSpatial RFP posting and browsing. Get valuable Geo-RFPs on your desktop or browse the daily updates online. News, Articles, Community - SpatialNews is the GeoCommunity's voice. Look for breaking industry news headlines, editorials, newsletters, information on events, educational material and much more. Meet and share your thoughts with GeoCommunity visitors in the community area
GIS, CAD, GPS, mobile industry maps,news,jobs,data free software
Inc. -- The Earth to Business Company
Worldwide, Landsat Thematic Mapper Mosaics - 1990 - Free GIS Data - GIS Data Depot
LINKS TO OTHER WEB SITES: This is the United Nations cartographic web site. Links to other sites are provided for information only. The inclusion of these links and their content does not imply official endorsement or approval whatsoever by the United Nations. DESIGNATIONS USED: The depiction and use of boundaries, geographic names and related data shown on maps and included in lists, tables, documents, and databases on this web site are not warranted to be error free nor do they necessarily imply official endorsement or acceptance by the United Nations. COPYRIGHT NOTICE: Unless otherwise noted, the maps included on this web site are produced by the Cartographic Section and are copyrighted by the United Nations.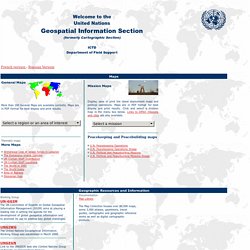 USGS/EROS Home Page
This year we are combining the National Atlas of the United States with The National Map to provide a single source for geospatial and cartographic information. This transformation is taking place to streamline access to information from the U.S. Geological Survey (USGS) National Geospatial Program. USGS budget austerity has compelled our organization to prioritize its civilian mapping role and to consolidate its core investments.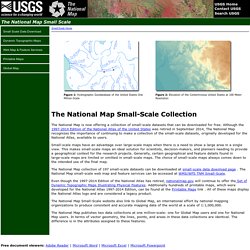 System Maintenance ASTER GDEM Website will be out of service during the following period due to maintenance.
ASTER GDEM
ResMap provides free online access to GIS-ready satellite data. Imagery covering the entire globe is accessible, with resolutions ranging from 1 km to 14.25 metres for most areas, and in some selected regions 1 metre imagery is available. Over 10 Terabytes of LANDSAT imagery is available for direct and free use in GIS/CAD/RS/MS Office applications on your desktop without the need to download the data. Simulated Natural Colour Landsat 7 ETM+ Mosaic Tiles Discover FREE On-line Satellite Imagery Satellite Imagery Product Guide (PDF)
Free Online GIS-Ready Satellite Imagery