Davis Facebook page ideas
Learning to pay attention early leads to long-term academic success » Dyslexia the Gift Blog. Young children who are able to pay attention and persist with a task have a 50 percent greater chance of completing college, according to a new study from Oregon State University.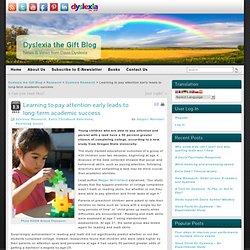 The study tracked educational outcomes of a group of 430 children over two decades, beginning at age 4. Analysis of the data collected showed that social and behavioral skills, such as paying attention, following directions and completing a task may be more crucial than academic abilities. Lead author Megan McClelland explained, "Our study shows that the biggest predictor of college completion wasn't math or reading skills, but whether or not they were able to pay attention and finish tasks at age 4." Parents of preschool children were asked to rate their children on items such as "plays with a single toy for long periods of time" or "child gives up easily when difficulties are encountered." Sally Gardner: Dyslexia is not a disease. It always struck me as strange that as a child I should be saddled with a word that I could neither pronounce or spell.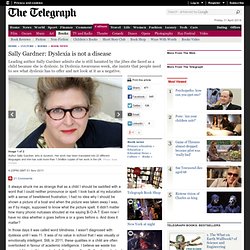 I look back at my education with a sense of bewildered frustration, I had no idea why I should be shown a picture of a boat and when the picture was taken away I was, as if by magic, supposed to know what the picture spelt. It didn't matter how many phonic nutcases shouted at me saying B-O-A-T. Even now I have no idea whether o goes before a or a goes before o. And does it matter? In those days it was called word blindness. Even A Few Years Of Music Training Benefits The Brain | Science Sushi. Music has a remarkable ability to affect and manipulate how we feel.
Simply listening to songs we like stimulates the brain's reward system , creating feelings of pleasure and comfort. But music goes beyond our hearts to our minds, shaping how we think. Scientific evidence suggests that even a little music training when we're young can shape how brains develop, improving the ability to differentiate sounds and speech.
With education funding constantly on the rocks and tough economic times tightening many parents' budgets, students often end up with only a few years of music education. Studies to date have focused on neurological benefits of sustained music training, and found many upsides. Wall Photos. Wall Photos. Ottawa businessman helping others overcome dyslexia - News - By Jessica Cunha Ottawa East Local Community News. Wireless Sales Rep - Rogers Woodroffe Rogers Small Business Sales Consultant Rogers Customer Service Representative - Fido - Barrhaven Rogers Customer Service Rep Rogers Turf Staff Eagle Creek Golf Club.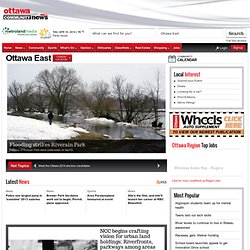 Tips from Dyslexic Students for Dyslexic Students * The Yale Center For Dyslexia & Creativity. From The Real Experts...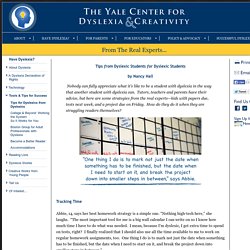 Tips from Dyslexic Students for Dyslexic Students by Nancy Hall. Our Story - Dyslexic Mother and Daughter. Twenty-five years ago when my daughter, Genevieve, was in grade two, I was called in for a meeting with her teacher.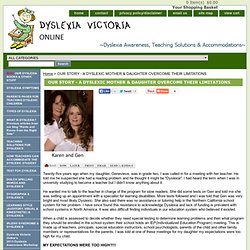 He told me he suspected she had a reading problem and he thought it might be "Dyslexia". I had heard the term when I was in university studying to become a teacher but I didn't know anything about it. He wanted me to talk to the teacher in charge of the program for slow readers. She did some tests on Gen and told me she was setting up an appointment with a specialist for learning disabilities. Untitled. "The D-Word: Understanding Dyslexia" director James Redford at Sundance. Building the Alphabet One Letter at a Time | Texas Homesteader. Jake making the letters of the alphabet.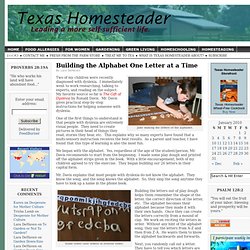 Two of my children were recently diagnosed with dyslexia. I immediately went to work researching, talking to experts, and reading on the subject. My favorite source so far is The Gift of Dyslexia by Ronald Davis. Mr. Davis gives practical step-by-step instructions for helping someone with dyslexia. Kids born later in the year more likely to be diagnosed with ADHD: Study | Health | Life. VANCOUVER — The youngest kids in a classroom are more likely to be medicated for deficit hyperactivity disorder than their older peers in the same grade, says a University of B.C. study released Monday.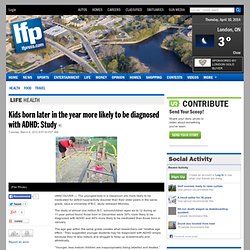 The study of almost one million B.C. schoolchildren ages six to 12 during an 11-year period found those born in December were 39% more likely to be diagnosed with ADHD and 48% more likely to be medicated than those born in January. The age gap within the same grade creates what researchers call "relative age effect." They suggested younger students may be diagnosed with ADHD simply because they're less mature and struggle to keep up academically and athletically. "Younger, less mature children are inappropriately being labelled and treated," said lead author Richard Morrow of UBC's Department of Anesthesiology, Pharmacology and Therapeutics.
The New Way Doctors Learn. Turning a medical student into a doctor takes a whole lot of knowledge.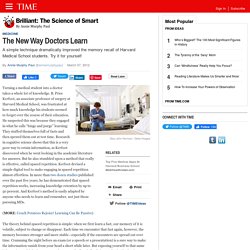 B. Price Kerfoot, an associate professor of surgery at Harvard Medical School, was frustrated at how much knowledge his students seemed to forget over the course of their education. He suspected this was because they engaged in what he calls "binge and purge" learning: They stuffed themselves full of facts and then spewed them out at test time. Research in cognitive science shows that this is a very poor way to retain information, as Kerfoot discovered when he went looking in the academic literature for answers.
Dyslexia and Perception. The Teen Brain: It's Just Not Grown Up Yet. Multiple Forms of ADHD? By Rick Nauert PhD Senior News Editor Reviewed by John M.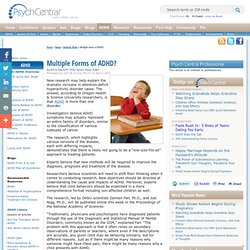 Grohol, Psy.D. on April 3, 2012 New research may help explain the dramatic increase in attention-deficit hyperactivity disorder cases. The answer, according to Oregon Health & Science University researchers, is that ADHD is more than one disorder. What Kids Should Know About Their Own Brains. Big Ideas Teaching Strategies Getty Neuroscience may seem like an advanced subject of study, perhaps best reserved for college or even graduate school.
Dyslexia. ADD/ADHD Medications: Are ADHD Drugs Right for You or Your Child? Medication for ADD & ADHD: What you need to know Making ADD/ADHD medication decisions can be difficult, but doing your homework helps. The first thing to understand is exactly what the medications for ADD and ADHD can and can't do. Dyslexia site. Drawn » Dyslexia the Gift Blog. Excerpt from an image at "Mapping Your Dyslexia" at dyslexic.org What does your dyslexia look like? This is a question that Sue Bell, an adult literacy support specialist, asked dyslexic adults who came to her center. In order to provide picture-thinkers with an way to express their thoughts and feelings, she encouraged adult learners to draw mind maps to express their life experiences with dyslexia. She also encouraged them to take photographs to depict and explain their own thought processes.
She writes, "The process of creating the mind maps was a powerful way of coming to terms with years of struggle." The Big Picture Movie Trailer. If you're so smart ……. » Dyslexia the Gift Blog. Katie is the 8 year old daughter of a very smart lawyer — but when she asks for help with her spelling homework, Dad takes a pass. She's surprised — how can a man who is so smart not know how to spell? When her dad explains about his childhood struggles with dyslexia, Katie decides to investigate on her own with a trip to the library. With a little research she learns about many famous and accomplished dyslexics, and also gains insight about a third grade classmate.
---