Curation for Education & Learning
UpsideOS. Bibblio – Learn anything from the finest minds, for free. EduCrate. Thanks for checking out EduCrate!
We see you're on a mobile/tablet device or a screen with a small resolution. Please note EduCrate is currently best experienced on a laptop or desktop with the browser window expanded fully. Native mobile and tablet designs are in the works, so in the meantime you may notice some wonkiness! Blendspace - Create lessons with digital content in 5 minutes. MentorMob. Gibbon.co.
Helpified. Hippocampus.org. Can I take a course at HippoCampus for credit?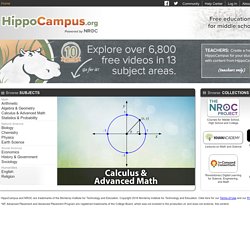 How do I enroll in a course at HippoCampus? Are there any fees to take your courses? How do I make a comment or ask a question? How do I get individual help with my homework assignment? Edcanvas. AcademicPub. Create. LiveBinders.
EduClipper. Curatr. Learnist. LibGuides.
---