Film & Cinema
The 100 Best Movies of 2008 | 2008 Film Guide - Times Online. Pianist, The reviews at Metacritic.com. The Pianist Movie Reviews, Pictures. All Critics (186) | Top Critics (39) | Fresh (170) | Rotten (8) | DVD (26) Old-fashioned in both visual and narrative style and in its overall restraint, the film clearly benefits from the director's first-hand knowledge of the territory.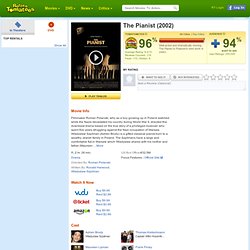 Brody is a sublimely haunting presence at the heart of The Pianist. ROTTEN TOMATOES: ROTTEN TOMATOES: Top Movies: Golden Globes. Fitz's Elements for a Good Movie… | Lair of the Green Knight. If you're new here, you may want to subscribe to my RSS feed.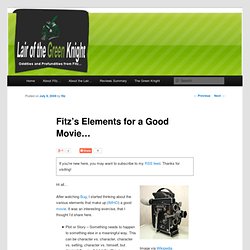 Thanks for visiting! Hi all… After watching Bug, I started thinking about the various elements that make up (IMHO) a good movie. It was an interesting exercise, that I thought I'd share here. Elements of film. Film Making is the most recent of art.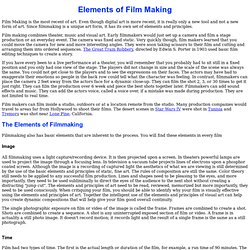 Even though digital art is more recent, it is really only a new tool and not a new form of art. Since filmmaking is a unique art form, it has its own set of elements and principles. Film making combines theater, music and visual art. Early filmmakers would just set up a camera and film a stage production or an everyday event. Composition. Composition Guidelines Before reading composition guidelines you should read all of the Elements and Principles sections.
Using the composition guidelines can help you use the elements and principles of visual art to make compositions that please the eye and tell your story as clearly as possible. Why does good composition help communicate? We don't want to distract our audience with the ugliness of a poorly constructed and confusing composition. Your composition needs to help you tell your story and help give your film continuity, the equivalent to unity. Main Film Genres. Funniest Movie Moments and Scenes. Funniest Movie Scenes: Although it would be impossible to compile a list of every single funny scene ever screened, this collection moves toward that goal.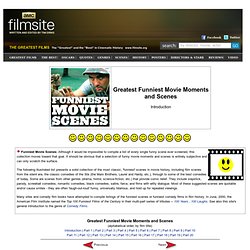 It should be obvious that a selection of funny movie moments and scenes is entirely subjective and can only scratch the surface. The following illustrated list presents a solid collection of the most classic, 'funniest' scenes in movie history, including film scenes from the silent era, the classic comedies of the 30s (the Marx Brothers, Laurel and Hardy, etc.), through to some of the best comedies of today.
Some are scenes from other genres (drama, horror, science-fiction, etc.) that provide comic relief. Greatest Films - The Best Movies in Cinematic History. ENG 195 - FILM AS ART. ENG 195 - Film Studies: Film As Art Summer 2012 Michael Dembrow, Instructor Course Overview.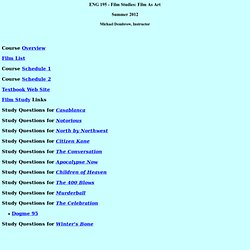 100 Greatest Films. The Greatest Films can't be measured scientifically because greatness is extremely subjective.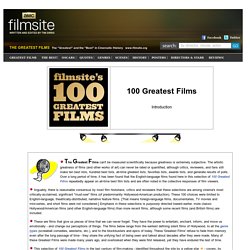 The artistic greatness of films (and other works of art) can never be rated or quantified, although critics, reviewers, and fans still make ten best lists, hundred best lists, all-time greatest lists, favorites lists, awards lists, and generate results of polls. Over a long period of time, it has been found that the English-language films found here in this selection of 100 Greatest Films repeatedly appear on all-time best film lists and are often noted in the collective responses of film viewers. Arguably, there is reasonable consensus by most film historians, critics and reviewers that these selections are among cinema's most critically-acclaimed, significant "must-see" films (of predominantly Hollywood-American production).
AFI's Greatest American Films - Nominees. Fargo (1996) Edit Storyline Jerry works in his father-in-law's car dealership and has gotten himself in financial problems.

He tries various schemes to come up with money needed for a reason that is never really explained. It has to be assumed that his huge embezzlement of money from the dealership is about to be discovered by father-in-law.
---