Lifestyle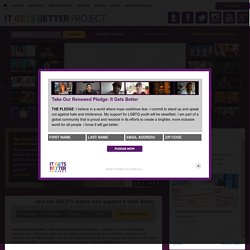 It Gets Better Project | Give hope to LGBT youth
Posted May 7, 2012 by Gary Nelson A Letter to Any Teen Who's Thinking About Suicide Dear friend, Let me start by telling you that I love you. No, I don't know you at all. I might have passed you at the mall or caught a glimpse of you driving down the road, but chances are you live far away from me, in another state or even in another country. I love you just the same.
Whats goin on..
Homosexuality and the Bible
My first time, I was so extraordinarily nervous that afterward I could not remember much of what happened. I still don't today. Entirely unexpectedly, I have actual amnesia. When I try to remember, I see flashes of images, I feel a few bursting emotions, and there are a handful of distinct thoughts that I can recall. But these span no more than a few seconds – brief moments that randomly intersperse those five minutes.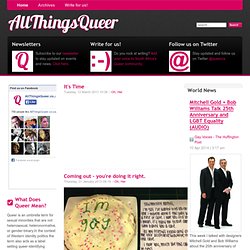 Preventing Suicide Among LGBTQ Youth | The Trevor Project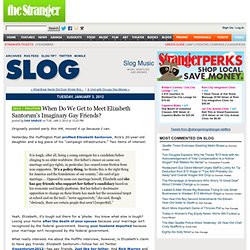 slog.thestranger
Originally posted early this AM, moved it up because I can. Yesterday the Huffington Post profiled Elizabeth Santorum, Rick's 20-year-old daughter and a big piece of his "campaign infrastructure." Two items of interest:
Mattzarley is using ShareFuze | Get Perfect (7th Heaven Radio Edit) - FREE!