Psychology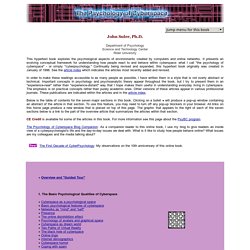 The Psychology of Cyberspace - Home Page/Table of Contents
This hypertext book explores the psychological aspects of environments created by computers and online networks. It presents an evolving conceptual framework for understanding how people react to and behave within cyberspace: what I call "the psychology of cyberspace" - or simply "cyberpsychology." Continually being revised and expanded, this hypertext book originally was created in January of 1996. See the article index which indicates the articles most recently added and revised. In order to make these readings accessible to as many people as possible, I have written them in a style that is not overly abstract or technical. Important concepts in psychology and psychoanalytic theory appear throughout the book, but I try to present them in an "experience-near" rather than "experience-distant" way that I hope makes them useful in understanding everyday living in cyberspace.
Personality Comparison Chart
Personality Disorder Test
WHAT YOU ARE ABOUT TO READ IN THE NEXT PARAGRAPH IS COMMONLY BELIEVED, BUT NOT TRUE – You read by recognizing the shapes of words and groups of words. Words that are in all capital letters all have the same shape: a rectangle of a certain size. This makes words displayed in all uppercase harder to read than upper and lower case (known as "mixed case"). Mixed case words are easier to read because they make unique shapes, as demonstrated by the picture below.