Did You Know?
How to win Rock-paper-scissors every time. I admit it.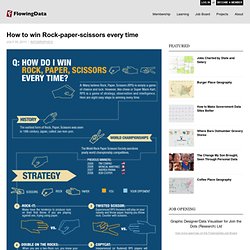 When I first heard there are actual tournaments for Rock-paper-scissors, sanctioned by the World Rock Paper Scissors Society, I laughed. I mean seriously, $50k to the winner of a game that requires no skill whatsoever? Absurd. Boy was I wrong. Random, Interesting, Amazing Facts - Fun Quizzes and Trivia - Mental Floss. Perception puzzles, Visual Perception, Optical illusions and Paradoxes.
This page illustrates that our visual perception cannot always be trusted.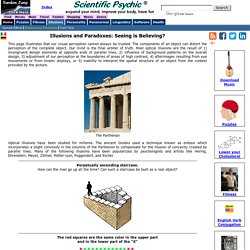 The components of an object can distort the perception of the complete object. Our mind is the final arbiter of truth. Most optical illusions are the result of 1) incongruent design elements at opposite ends of parallel lines, 2) influence of background patterns on the overall design, 3) adjustment of our perception at the boundaries of areas of high contrast, 4) afterimages resulting from eye movements or from kinetic displays, or 5) inability to interpret the spatial structure of an object from the context provided by the picture. Optical illusions have been studied for millenia. The ancient Greeks used a technique known as entasis which incorporates a slight convexity in the columns of the Parthenon to compensate for the illusion of concavity created by parallel lines.
Coke-evolution.jpg (JPEG Image, 600x444 pixels) Did you know.
Feb 2012. 02-29-12: welcome to the world Share this comic: 02-28-12: this is the internet 02-27-12: quality guys at college 02-26-12: the academy awards.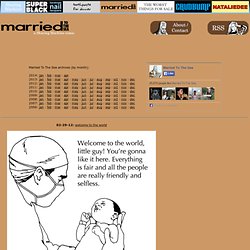 20 Common Grammar Mistakes That (Almost) Everyone Makes. I've edited a monthly magazine for more than six years, and it's a job that's come with more frustration than reward.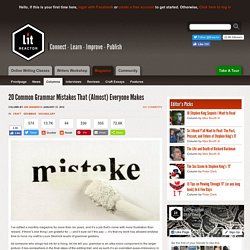 If there's one thing I am grateful for — and it sure isn't the pay — it's that my work has allowed endless time to hone my craft to Louis Skolnick levels of grammar geekery. As someone who slings red ink for a living, let me tell you: grammar is an ultra-micro component in the larger picture; it lies somewhere in the final steps of the editing trail; and as such it's an overrated quasi-irrelevancy in the creative process, perpetuated into importance primarily by bitter nerds who accumulate tweed jackets and crippling inferiority complexes. But experience has also taught me that readers, for better or worse, will approach your work with a jaundiced eye and an itch to judge. While your grammar shouldn't be a reflection of your creative powers or writing abilities, let's face it — it usually is.
---