Mediation
Transformative Mediation by Skype Blows Minds (video) - Institute for the Study of Conflict Transformation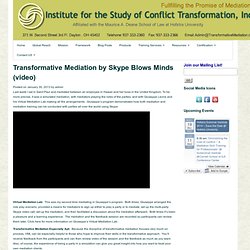 January 30th, 2013 Last week I sat in Saint Paul and mediated between an employee in Hawaii and her boss in the United Kingdom. To be more precise, it was a simulated mediation, with mediators playing the roles of the parties, and with Giuseppe Leone and his Virtual Mediation Lab making all the arrangements.
Mediation Remains Elusive in Public Discourse Despite Its Ubiquity
The State of Community Mediation 2011 - NAFCM: The Voice of Community Mediation
The State of Community Mediation 2011 - NAFCM: The Voice of Community Mediation
The Academy of Professional Family Mediators The Academy of Professional Family Mediators
Mediating in Africa: Interviews with Experts
As a part of its African Union Mediation Support Capacity Project, CMI presents fifteen videos on different aspects of peace mediation. In each of these fifteen videos, the spotlight is on regional experts, from professors to AU special representatives. The experts reflect on more specific themes, such as the role of women and regional economic communities in mediation processes. Among the other themes discussed are the meaning of impartiality, the particularities of border and election-related disputes and the role of civil society in mediation - with a focus on Africa.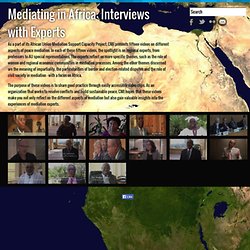 Mediate.com
Institute for the Study of Transformative Mediation - Promoting the Transformative Model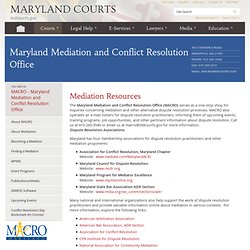 MACRO
Mediation Resources The Maryland Mediation and Conflict Resolution Office (MACRO) serves as a one-stop shop for inquiries concerning mediation and other alternative dispute resolution processes. MACRO also operates an e-mail listserv for dispute resolution practitioners, informing them of upcoming events, training programs, job opportunities, and other pertinent information about dispute resolution. Call us at 410-260-3540 or email us at macro@mdcourts.gov for more information.
Workplace and interpersonal conflict resolution expert Tammy Lenski