Experiments
Wheeler's delayed choice experiment is a thought experiment in quantum physics proposed by John Archibald Wheeler in 1978.[1] The results Wheeler predicted have since been confirmed by actual experiment.[2][3][4]
Wheeler's delayed choice experiment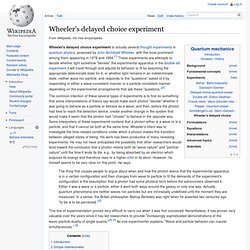 Delayed choice quantum eraser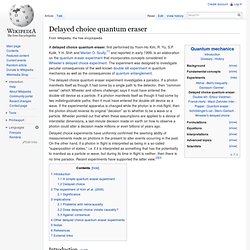 A delayed choice quantum eraser, first performed by Yoon-Ho Kim, R.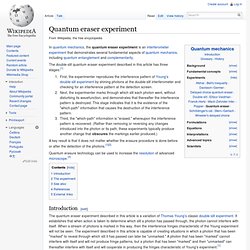 Quantum eraser experiment
The double-slit quantum eraser experiment described in this article has three stages:[1] First of all, the experimenter tries to reproduce the interference pattern of Young's double-slit experiment by shining photons at the double-slit interferometer and check for interference pattern at the detection screen.The experimenter marks through which slit each photon went, without disturbing their movement, and demonstrates that the interference pattern is destroyed. This stage shows that it is the existence of the "which-path" information which causes the destruction of the interference pattern.The "which-path" information is "erased," whereupon the interference pattern is recovered.
Elitzur–Vaidman bomb tester
Bomb-testing problem diagram.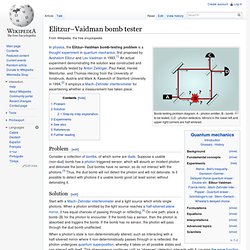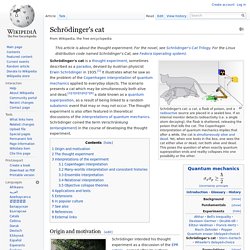 Schrödinger's cat: a cat, a flask of poison, and a radioactive source are placed in a sealed box.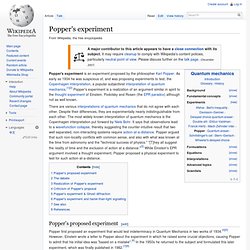 Popper's experiment is an experiment proposed by the philosopher Karl Popper. As early as 1934 he was suspicious of, and was proposing experiments to test, the Copenhagen interpretation, a popular subjectivist interpretation of quantum mechanics.[1][2] Popper's experiment is a realization of an argument similar in spirit to the thought experiment of Einstein, Podolsky and Rosen (the EPR paradox) although not as well known. There are various interpretations of quantum mechanics that do not agree with each other.
Popper's experiment
Bell test experiments or Bell's inequality experiments are designed to demonstrate the real world existence of certain theoretical consequences of the phenomenon of entanglement in quantum mechanics which could not possibly occur according to a classical picture of the world, characterised by the notion of local realism.
Bell test experiments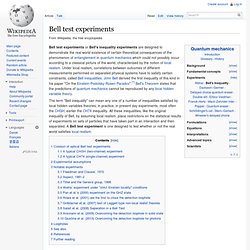 Basic theory and description[edit] Quantum spin versus classical magnet in the Stern–Gerlach experiment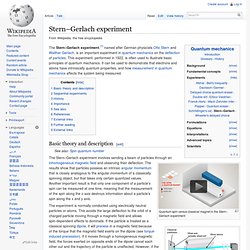 Stern–Gerlach experiment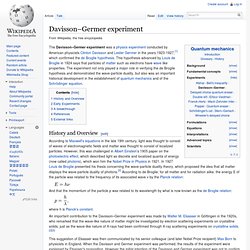 Davisson–Germer experiment
History and Overview[edit] According to Maxwell's equations in the late 19th century, light was thought to consist of waves of electromagnetic fields and matter consist of localized particles.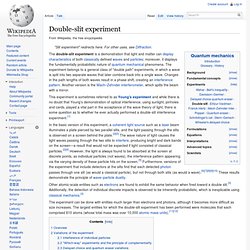 The double-slit experiment, sometimes called Young's experiment (after Young's interference experiment), is a demonstration that matter and energy can display characteristics of both classically defined waves and particles; moreover, it displays the fundamentally probabilistic nature of quantum mechanical phenomena. The experiment belongs to a general class of "double path" experiments, in which a wave is split into two separate waves that later combine back into a single wave.