Experiments
Wheeler's delayed choice experiment is a thought experiment in quantum physics proposed by John Archibald Wheeler in 1978. [ 1 ] The results Wheeler predicted have since been confirmed by actual experiment. [ 2 ] [ 3 ] [ 4 ]
Wheeler's delayed choice experiment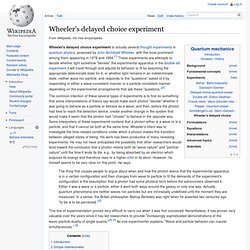 Delayed choice quantum eraser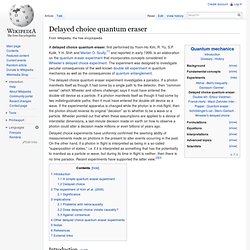 A delayed choice quantum eraser , first performed by Yoon-Ho Kim, R.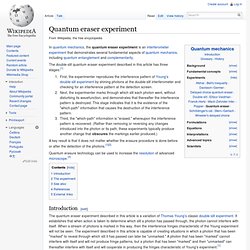 Quantum eraser experiment
In quantum mechanics , the quantum eraser experiment is a double-slit experiment that demonstrates several fundamental aspects of the quantum theory, including quantum entanglement and complementarity . The experiment has two stages: The experimenter marks through which slit each photon went, without disturbing their movement, and demonstrates that the interference pattern is destroyed.
Elitzur–Vaidman bomb tester
Bomb-testing problem diagram.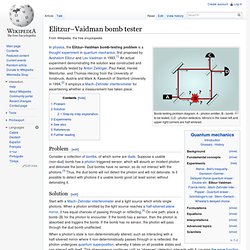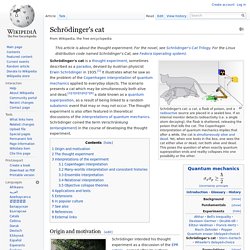 Schrödinger's cat: a cat, a flask of poison, and a radioactive source are placed in a sealed box.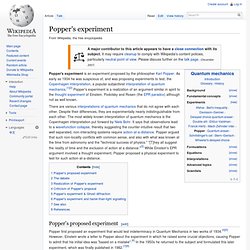 Popper's experiment is an experiment proposed by the philosopher Karl Popper . As early as 1934 he was suspicious of, and was proposing experiments to test, the Copenhagen interpretation , a popular subjectivist interpretation of quantum mechanics . [ 1 ] [ 2 ] Popper's experiment is a realization of an argument similar in spirit to the thought experiment of Einstein, Podolsky and Rosen (the EPR paradox ) although not as well known. There are various interpretations of quantum mechanics that do not agree with each other.
Popper's experiment
Bell test experiments or Bell's inequality experiments are designed to demonstrate the real world existence of certain theoretical consequences of the phenomenon of entanglement in quantum mechanics which could not possibly occur according to a classical picture of the world, characterised by the notion of local realism .
Bell test experiments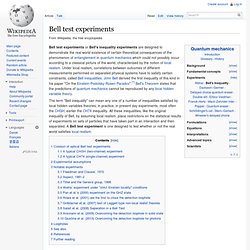 Important in the field of quantum mechanics , the Stern–Gerlach experiment , [ 1 ] named after German physicists Otto Stern and Walther Gerlach , is a 1922 experiment on the deflection of particles , often used to illustrate basic principles of quantum mechanics. It can be used to demonstrate that electrons and atoms have intrinsically quantum properties, and how measurement in quantum mechanics affects the system being measured.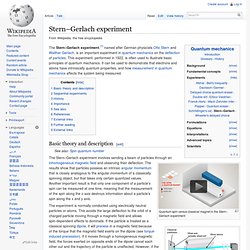 Stern–Gerlach experiment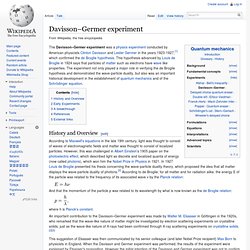 Davisson–Germer experiment
The Davisson–Germer experiment was a physics experiment conducted by American physicists Clinton Davisson and Lester Germer in 1927, [ 1 ] which confirmed the de Broglie hypothesis . This hypothesis advanced by Louis de Broglie in 1924 says that particles of matter such as electrons have wave like properties.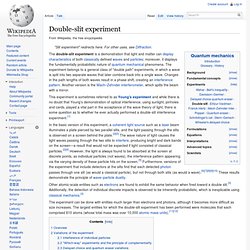 The double-slit experiment, sometimes called Young 's experiment (after Young's interference experiment ), is a demonstration that matter and energy can display characteristics of both waves and particles , and demonstrates the fundamentally probabilistic nature of quantum mechanical phenomena. In the basic version of this experiment, a coherent light source such as a laser beam illuminates a thin plate pierced by two parallel slits, and the light passing through the slits is observed on a screen behind the plate.