Need this in my room
100 Cool Teen Room Design Ideas - FURNISHism. Teenagers are those people who are hard to please so they parents could have a quite hard time when are designing a room for them.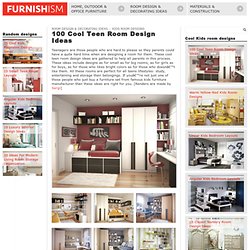 These cool teen room design ideas are gathered to help all parents in this process. These ideas include designs as for small as for big rooms, as for girls as for boys, as for those who likes bright colors as for those who doesn't like them. All these rooms are perfect for all teens lifestyles: study, entertaining and storage their belongings. If you're not just one of those people who just buy a furniture set from famous kids furniture manufacturer than these ideas are right for you. 20 Awesome Do It Yourself Projects.
Thursday, June 14, 2012 4:30 am, Posted by Chris Groves | Internet 20 Awesome Do It Yourself Projects Topics: At Home Project Ideas , Creative DIY Home Projects , Do It Yourself Projects for 2012 , Fun How To Projects , What to Do with Extra Stuff.
A bling pencil pot for my office. Dear Chicago House, It seems I never have enough containers to keep my pencils so this week I rustled up a little something for my desk Welcome to a bling pencil pot!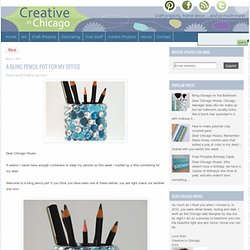 If you think you have seen one of these before, you are right check out another one here. Want to make one?
In the window
On the wall. Hanging. Probably The Cutest Thing I've Ever Made With Felt | Fab You Bliss. Bold Blossoms Throw Pillows. Tutorial: Quick Envelope Pillow Case. Last week I scored a bunch of pillows 2 for 6$ and I thought it would be fun to have some pretty pillows.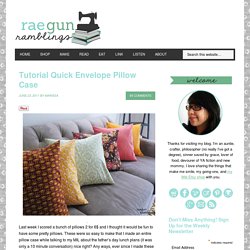 These were so easy to make that I made an entire pillow case while talking to my MIL about the father's day lunch plans (it was only a 10 minute conversation) nice right? Any ways, ever since I made these six I've been envisioning many more pillow cases in my future, you know say for all the holidays, parties, seasons. The next WILL be Harry Potter themed eeek I'm so excited I just need to find a second to make them. Any ways. 20 Ideas for Making Your Own Headboard | The New Home Ec. By craftyamy | I don't have a headboard, and I actually haven't had one since I left my parents' house after high school.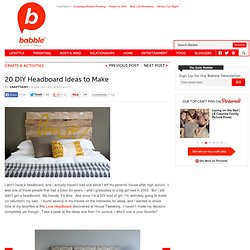 I was one of those people that had a futon for years – and I graduated to a big girl bed in 2003. But I still didn't get a headboard. The ikea rast campaign hack | almost makes perfect. Mainly the reason I started this blog, I tend to look at inspirational DIYs and hacks and try to copy them, this was one of the first cases of me just knowing what I wanted to make and doing it.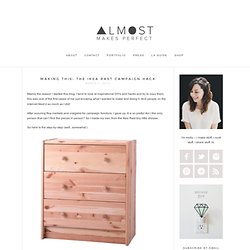 And people on the internet liked it as much as I did! After scouring flea markets and craigslist for campaign furniture, I gave up. 35 Amazing Uses For Old Pallets. Gossip Bench Redo. Multifunction beds for small bedrooms | Home Decor Tips.
---