Inspiration
Get flash to fully experience Pearltrees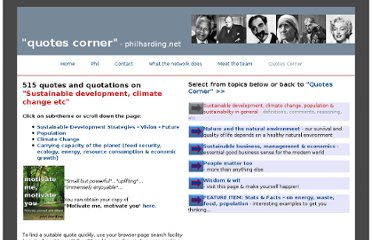 Sustainable Development Strategies - Vision - Future Because we don't think about future generations, they will never forget us - Henrik Tikkanen What politician ever thinks beyond 4 or 5 years? But such thinking is hopelessly inadequate for the big questions that involve the fabric of the world we live in - Simon Barnes, columnist, The Times (4.5.2013) We must address poverty, gender inequality, natural resource limits, climate change, biodiversity loss and population density - Population Matters At every level the greatest obstacle to transforming the world is that we lack the clarity and imagination to conceive that it could be different - Roberto Unger
For those of you who are counting, there are actually only twenty-four. I got bored and stopped. Not really. Number one is 1.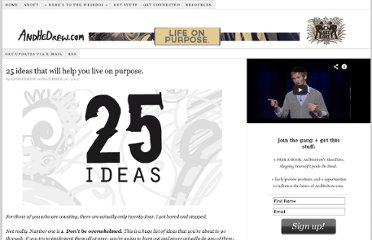 Jan 15-22nd, 2012 - Santa Barbara , CA Sustainability Policy Retreat for Activists, Enlightened Policymakers and Regulators Santa Barbara, CA foothills, January 15th-22nd 2012, short session 16-19th Public Presentation with Carolyn Raffensperger, 7 pm Jan 16th, SBCC Roundtable with local regulators, 12-1:30 pm Jan 19th, SB downtown =Please RSVP by Friday, Jan 6th if possible, the 9th at the latest= Overarching goal: reduce institutional barriers to sustainability.
Announcing the next Emerge Leadership Workshop led by nationally recognized sustainability leader, author and speaker Kathleen O'Brien A society where a sustainably built environment is the norm represents a dramatic change in thinking and practice. This two-day intensive workshop is for business and community leaders of all levels called to create this change. Leadership to successfully foster this change can be learned and does not necessarily require celebrity status or title.
In order to have compassion for others, we have to have compassion for ourselves. In particular, to care about other people who are fearful, angry, jealous, overpowered by addictions of all kinds, arrogant, proud, miserly, selfish, mean —you name it— to have compassion and to care for these people, means not to run from the pain of finding these things in ourselves. In fact, one's whole attitude toward pain can change. Instead of fending it off and hiding from it, one could open one's heart and allow oneself to feel that pain, feel it as something that will soften and purify us and make us far more loving and kind. The tonglen practice is a method for connecting with suffering —ours and that which is all around us— everywhere we go.