Happiness
Shawn Achor: The happy secret to better work. Happy 130th Birthday, A. A. Milne: "Happiness" and the Origin of Winnie-the-Pooh. By Maria Popova On rainy days and the simplicity of happiness.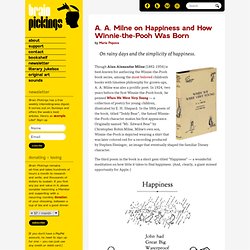 Though Alan Alexander Milne (1882-1956) is best-known for authoring the Winnie-the-Pooh book series, among the most beloved children's books with timeless philosophy for grown-ups, A. A. Christoph Niemann on Happiness, Work and Creativity. By Maria Popova How yoga is killing kerning, or what chasing butterflies has to do with divine inspiration.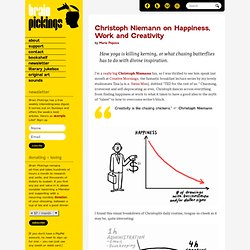 I'm a really big Christoph Niemann fan, so I was thrilled to see him speak last month at Creative Mornings, the fantastic breakfast lecture series by my lovely studiomate Tina (a.k.a. Philosophy: Guide to Happiness. We tend to accept that people in authority must be right.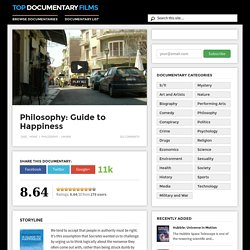 It's this assumption that Socrates wanted us to challenge by urging us to think logically about the nonsense they often come out with, rather than being struck dumb by their aura of importance and air of suave certainty. This six part series on philosophy is presented by popular British philosopher Alain de Botton, featuring six thinkers who have influenced history, and their ideas about the pursuit of the happy life. Positive psychology.
---