Music +
L'actu culturelle en continu. LA BLOGOTHEQUE. LesInrocks.com : L'actu culturelle en continu. Le court métrage des Beastie Boys : pisse, unity, and having fun. Alors qu'on se rapproche à grands pas de la sortie de (le 3 mai), le court métrage réalisé par Adam "MCA" Yaunch a fait son apparition hier dans la journée.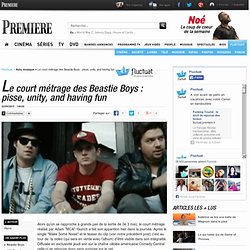 Après le single "Make Some Noise" et le teaser du clip (voir notre précédent post) c'est au tour de la vidéo (qui sera en vente avec l'album) d'être visible dans son intégralité. Diffusée en exclusivité jeudi soir sur la chaîne câblée américaine Comedy Central celle-ci se retrouve donc sans surprise sur le net. Le film débute juste là où le clip "Fight For Your Right" avait laissé nos trois rappeurs : dans un appart ruiné par une bataille rangée de tartes à la crème. Beastie boys - Fight For Your Right. FUCK YEAH PATTI SMITH!
Sound Types. Accueil. Magnatune: license music and MP3 download. Ne ratez plus aucun concert. Explications des références, expressions, vocabulaire, de Georges Brassens. Radio Groovalizacion. Listen to a Wall of Music.
---