DIY Resources
Adafruit Industries, Unique & fun DIY electronics and kits. The Open Organisation Of Lockpickers. Geodesic Hub Connectors. Introduction to Stepper Motors | Sleep is overrated… If you are reading this, then you probably want to know more about stepper motors.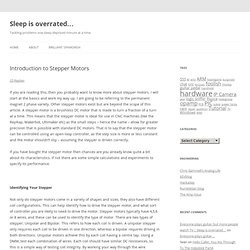 I will start at the basics and work my way up. I am going to be referring to the permanent magnet 2 phase variety. Other stepper motors exist but are beyond the scope of this article. A stepper motor is a brushless DC motor that is made to turn a fraction of a turn at a time. This means that the stepper motor is ideal for use in CNC machines (like the RepRap, Makerbot, Ultimaker etc) as the small steps – hence the name – allow for greater precision that is possible with standard DC motors. Simplified Building - Kee Klamp, Kee Lite, Fittings, Railings, Industrial Connectors, Pipe Fittings. Pdfs/sugru_instructions.pdf. Ink sandwiches, electric worms, and ...
Evil Mad Science: Product Directory.
---