Distribuciones Linux
Canaima GNU/Linux es un proyecto socio-tecnológico abierto, construido de forma colaborativa, centrado en el desarrollo de herramientas y modelos productivos basados en las Tecnologías de Información (TI) Libres de software y sistemas operativos cuyo objetivo es generar capacidades nacionales, desarrollo endógeno, apropiación y promoción del libre conocimiento, sin perder su motivo original: la construcción de una nación venezolana tecnológicamente preparada. Actualmente Canaima impulsa grandes proyectos nacionales tanto a nivel público como privado, entre los que se encuentran el Proyecto Canaima Educativo, el Plan Internet equipado de CANTV, entre otros. Descargas de la Metadistribución Pruebe Canaima 4.0 en linea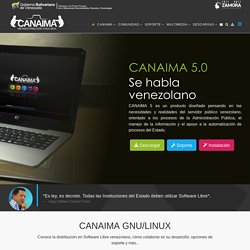 Canaima GNU/Linux — Portal Canaima GNU/Linux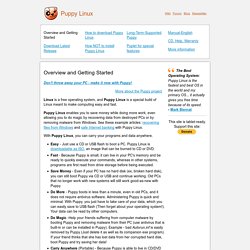 Overview and Getting Started More about the Puppy project Linux is a free operating system, and Puppy Linux is a special build of Linux meant to make computing easy and fast.
Una Nueva Distribución Linux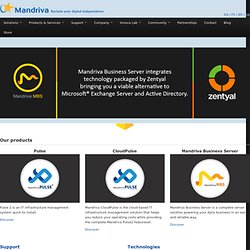 Mandriva support programs for businesses Mandriva provides technical support level 1, 2 and 3, which covers the installation of Linux distributions and software, configuration, performance improvement, maintenance and software technology watch. Discover R&D plays an essential part in Mandriva S.A's business operations.
El sistema operativo universal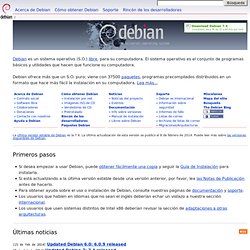 Download Debian 7.4(instalador para PC de 32 y 64 bits por red) Debian es un sistema operativo (S.O.) libre, para su computadora. El sistema operativo es el conjunto de programas básicos y utilidades que hacen que funcione su computadora. Debian ofrece más que un S.O. puro; viene con 37500 paquetes, programas precompilados distribuidos en un formato que hace más fácil la instalación en su computadora. Lea más...
This article was posted on: Sun, 22 Dec 2013 14:52:36 +0000 The team is proud to announce the release of Linux Mint 16 "Petra" Xfce. Linux Mint 16 Petra Xfce Edition Xfce is a lightweight desktop environment which aims to be fast and low on system resources, while still being visually appealing and user friendly.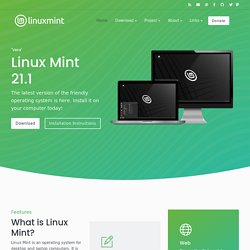 Welcome to Backtrack-Linux.org, home of the highest rated and acclaimed Linux security distribution to date. BackTrack is a Linux-based penetration testing arsenal that aids security professionals in the ability to perform assessments in a purely native environment dedicated to hacking. Regardless if you're making BackTrack you Install BackTrack, boot it from a Live DVD or thumbdrive, the penetration distribution has been customized down to every package, kernel configuration, script and patch solely for the purpose of the penetration tester. Note: BackTrack Linux is no longer being maintained.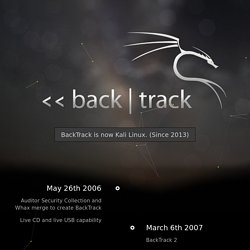 Página principal del Proyecto Fedora