Nouvelles technologies
What Exactly Is Crowdmap? Crowdmap is designed and built by the people behind Ushahidi, a platform that was originally built to crowdsource crisis information. As the platform has evolved, so have its uses. Crowdmap allows you to set up your own map of Ushahidi without having to install it on your own web server. What Can I Do With Crowdmap? Use the power of the crowd to monitor and visualize what went right, and what went wrong, in an election.
iHub Nairobi
How Mobile Technology is transforming Africa Rudy de Waele, CEO of Nyota Media shares on The Next Web a fascinating study about the state of the industry on Mobile Technology in Africa. Sustainable energy solutions to power local rural communities, 3D Printing technology to design solutions for local health problems, entrepreneurial greenfield. Popularity: 22% [?] Interview d' Africatechie sur CNN Interview de Rebecca Enonchong keynote speaker de la dernière édition de la 9ideas Conference sur CNN
africa2point0.com | Africa 2.0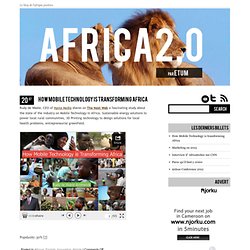 IT News Africa - Technology, Telecom, Mobile and Gadgets news, analysis and reports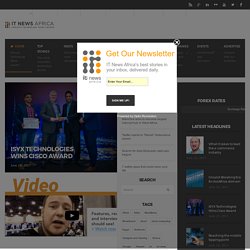 10 highly sought-after technology skills in 2014 With the International Monetary Fund (IMF) stating in a report in October this year that output in sub-Saharan Africa is expected to "expand by 6% in 2014″, academics and technology specialists have agreed that the projected growth will also fuel demand for skills. The ICT skills shortage experienced internationally, including South Africa, has also increasingly ... 10 exciting African gaming start-ups to watch There is no doubt that the worldwide gaming industry is huge – so large in fact, that it generates more revenue than Hollywood. While development studios in the rest of the world have been producing mobile, PC and console games for many decades, Africa seems to be the youngest player in the market. With that ... 7 wearables to get excited about Wearables, a term that came into prominence over the last two years, is all the rage at the moment.
(Cross-posted on Google.org blog) TV White Spaces—the unused spectrum between TV channels—have the potential to bring wireless broadband access to underserved and rural areas. These low frequency signals can travel long distances and fill a need in places where telecommunications infrastructure is lacking. Google, joined by a group of partners (CSIR Meraka Institute, TENET, e-Schools Network, WAPA, and Carlson Wireless), wanted to help make this potential a reality.
Official Google Africa Blog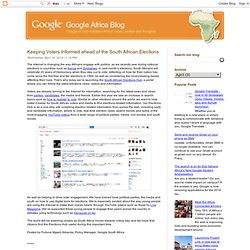 iHub Nairobi