Moteur de recherche / encyclopédies
Million Short is an experimental web search engine (really, more of a discovery engine) that allows you to REMOVE the top million (or top 100k, 10k, 1k, 100) sites from the results set. We thought it might be somewhat interesting to see what we'd find if we just removed an entire slice of the web. The thinking was the same popular sites (we're not saying popular equals irrelevant) show up again and again, Million Short makes it easy to discover sites that just don't make it to the top of the search engine results for whatever reason (poor SEO, new site, small marketing budget, competitive keyword(s) etc.).
observateurs moteurs de recherche
Helioid Queries others are following high frequency trading [ Academic ] 9 days ago in Qcd, Quality, Recent, and 7 other categories.
moteurs de recherche personnalisés
Tic tac tic tac tic tac... drrrrrrriiiiiiiiiiiNNNNNNNNNNNG Lundi 1er avril. 4h32 du matin Oh putain 4h32, je suis à la bourre moi. Vite avant que les vieux ne se réveillent. Mon frangin, pas de danger qu'il émerge avant 11 heures du mat. Le loser.
local.fr
Annuaire téléphonique Trouvez les numéros que vous cherchez sur notre annuaire téléphonique. Notre annuaire recense les abonnés des principaux opérateurs français de téléphonie fixe ou mobile (France Télécom, Orange, Free, SFR, Neuf SFR, Bouygues Télécom).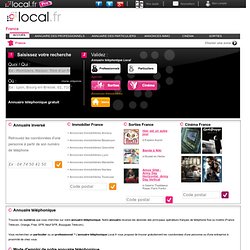 SMD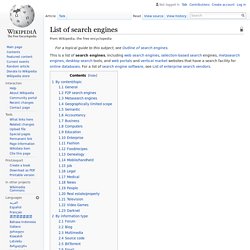 This is a list of articles about search engines, including web search engines, selection-based search engines, metasearch engines, desktop search tools, and web portals and vertical market websites that have a search facility for online databases. By content/topic General