Informatique électronique GE
Michel Deriaz
GenevaOnline Sàrl
Crédit Apprenez si le feu sur la solvabilité auprès de l'entreprise GenevaOnline Sàrl vert, jaune ou rouge? Surveillance de l'environnement: Avec une alerte e-mail gratuite, moneyhouse vous informe sur toutes les modifications commerciales.
Bulletins d'informations CADCAMation News 2014CADCAMation News (février 2014)CADCAMation News (janvier 2014) 2013CADCAMation News (novembre 2013)CADCAMation News (octobre 2013)CADCAMation News (septembre 2013)CADCAMation News (août 2013)CADCAMation News (juillet 2013)CADCAMation News (mai 2013)CADCAMation News (avril 2013)CADCAMation News (mars 2013) Inscription au bulletin d'information CADCAMation: cliquer ici...
CADCAMation (Onex)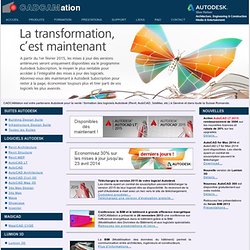 Retail Banking Retail banks need to provide optimal customer service across all channels simultaneously. A single rich source of customer data and sophisticated business intelligence tools to provide insight into customer behaviour are key. Temenos delivers scalable, high-performing solutions to meet retail banks' needs for core processing, regulation and compliance, internet and mobile channels, and reporting. They're capable of being deployed quickly and reliably, delivering a rapid return on investment.
Temenos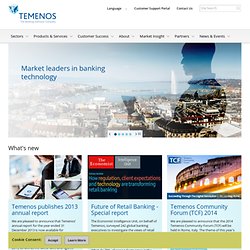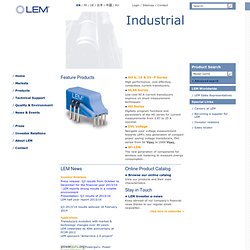 • HO 6, 10 & 25 -P Series High performance, cost effective, contactless current transducers. • HLSR Series Low-cost 50 A current transducers improve on shunt measurement techniques. • HO Series Digitally program functions and parameters of the HO series for current measurements from 2.67 to 25 A nominal.
LEM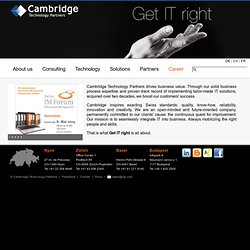 CTP
Rich content Cambridge Technology Partners drives business value. Through our solid business process expertise and proven track record of implementing tailor-made IT solutions, acquired over two decades, we boost our customers' success. Cambridge inspires exacting Swiss standards: quality, know-how, reliability, innovation and creativity. We are an open-minded and future-oriented company, permanently committed to our clients' cause: the continuous quest for improvement. Our mission is to seamlessly integrate IT into business.