Industrie GE
Secteur des machines, notes. Tornos | Tornos S.A. Industrie NE. Emballage VD. Industrie VD. Tabac VD. Industries FR. Électroménager. Verre optique. Industrie CH. Maisons d'édition CH.
Brasseries GE. Obersvateurs industrie GE. Travail bois GE. Parker Lucifer (Carouge) Induni (Petit-Lancy) Kugler bimetal (Vernier) Kugler's Bimetal: The sustainable solution for tribology problems «Tribology allows materials and energy savings» On the way to achieving its new vision, Kugler Bimetal SA offers to its customers a complex technical knowledge split into two poles, a tribology one and a metallurgical one.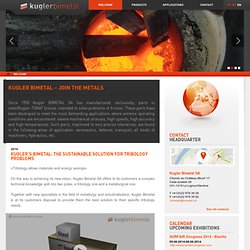 Pargesa. Alcoa. Implenia.
---