Industrie GE
secteur des machines, notes
Tornos | Tornos S.A.
obersvateurs industrie GE
Parker Lucifer (Carouge)
Induni (Petit-Lancy)
kugler bimetal (Vernier)
Kugler's Bimetal: The sustainable solution for tribology problems «Tribology allows materials and energy savings» On the way to achieving its new vision, Kugler Bimetal SA offers to its customers a complex technical knowledge split into two poles, a tribology one and a metallurgical one.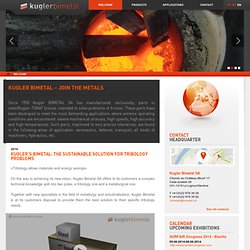 Pargesa
Alcoa
Implenia
Legal Implenia checks and updates the information on its website constantly. But because data may change we assume no responsibility nor do we guarantee topicality, accuracy or completeness of the material made available. The same is true of all websites accessible by hyperlink. Implenia assumes no liability whatsoever for the content of websites accessed through such links.