Hacktivisme
hacking
Chaos Computer Club (CCC)
Hackerspaces are community-operated physical places, where people can meet and work on their projects. This website is for Anyone and Everyone who wants to share their hackerspace stories and questions with the global hackerspaces community.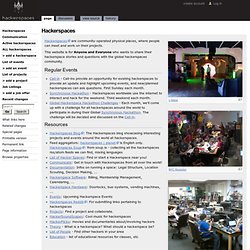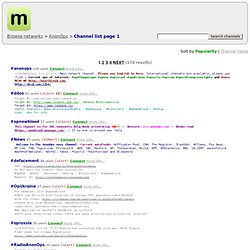 Channels IRC Anonymous. IRC Networks > AnonOps > Channels
1 2 3 4 5 NEXT (226 results) #ddos 112 users Connect more info... [+CFKSfjnrt 10:2 5:5 10:2] Target: www.radiovaticana.va / 204.160.103.126 - Reason: http://goo.gl/OC8SS see also: # OpVatican - # Setup - # tutorials - # OpNewblood #opnewblood 72 users Connect more info...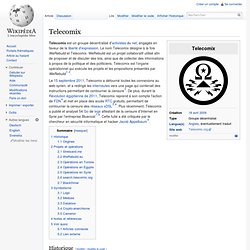 Un article de Wikipédia, l'encyclopédie libre. Telecomix est un groupe décentralisé d' activistes du net , engagés en faveur de la liberté d'expression . Le nom Telecomix désigne à la fois WeRebuild et Telecomix.
Telecomix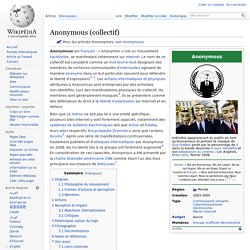 Un article de Wikipédia, l'encyclopédie libre. Anonymous (en français : « Anonyme ») est un mouvement hacktiviste , se manifestant notamment sur Internet . Le nom de ce collectif est considéré comme un mot fourre-tout désignant des membres de certaines communautés d' internautes agissant de manière anonyme dans un but particulier (souvent pour défendre la liberté d'expression) [ 2 ] , [ 3 ] . Les actions informatiques et physiques attribuées à Anonymous sont entreprises par des activistes non-identifiés. Lors des manifestations physiques du collectif, les membres sont généralement masqués [ 4 ] . Ils se présentent comme des défenseurs du droit à la liberté d'expression sur Internet et en dehors.