Hacktivisme
Pastebin.com. Anonymous. Hacking. Chaos Computer Club (CCC) Hackerspace.org. Hackerspaces are community-operated physical places, where people can meet and work on their projects.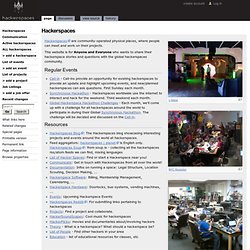 This website is for Anyone and Everyone who wants to share their hackerspace stories and questions with the global hackerspaces community. Regular Events Call-in - Call-ins provide an opportunity for existing hackerspaces to provide an update and highlight upcoming events, and new/planned hackerspaces can ask questions. First Sunday each month. Synchronous Hackathon - Hackerspaces worldwide use the internet to interact and hack for the weekend. Channels IRC Anonymous. IRC Networks > AnonOps > Channels. 1 2 3 4 NEXT (174 results) #anonops120 usersConnectmore info...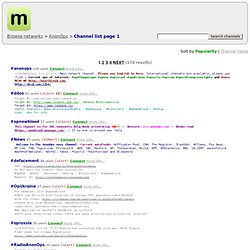 [+CFJNPSTfnrt 5:5 60 5:5] Main network channel. Please use English in here. Telecomix. Un article de Wikipédia, l'encyclopédie libre.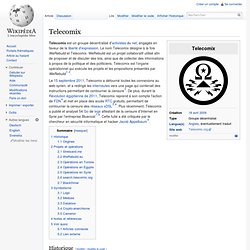 Telecomix est un groupe décentralisé d'activistes du net, engagés en faveur de la liberté d'expression. Le nom Telecomix désigne à la fois WeRebuild et Telecomix. Anonymous (collectif) Un article de Wikipédia, l'encyclopédie libre.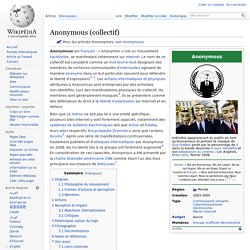 Origines Avec la popularité grandissante des imageboards, l'idée qu'Anonymous soit un collectif d'individus non nommés est devenue un mème internet[8],[9]. Le 25 novembre 2006, plusieurs mentions de la communauté Anonymous sont faites dans le manifeste « Rules of the Internet »[10] édité sur 4chan. La notoriété du nom a réellement débuté en 2008 avec le Projet Chanology (une série d'attaques informatique visant l'église de scientologie). Par la suite, le sens original d'Anonymous a été mal compris, notamment dans l'affaire Sony, où les grands médias ont pu en parler comme d'un groupe restreint de personnes bien identifiées et organisées, alors qu'il s'agit en fait d'un mème et que n'importe qui peut se revendiquer « Anonymous ». Anonymact.
---