Constructeurs avions d'affaires
Piaggio Aero ITALIE
Pilatus Aircraft Ltd was founded in 1939 and is currently world market leader in the manufacture and sale of single-engine turboprop aircraft. It is the only Swiss company that develops and produces private and training aircraft. Pilatus, which is headquartered in Stans, Switzerland, is licensed to maintain and perform upgrades on a variety of aircraft.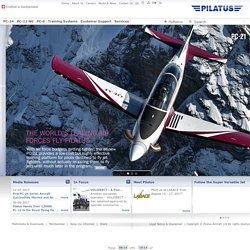 Pilatus Aircraft CH/NIDWALD
Embraer BRESIL
2014/03/25 The Course du Cœur 2014 Challenge – 14th year of entry for the Dassault Group The Dassault Group is taking part in its 14th Course du Coeur Challenge. The 28th edition of this challenge is run from Paris to Bourg-Saint-Maurice – Les Arcs over 4 days and 4 nights, from April 2 to 6, 2014. DIMDEX 2014 Dassault Aviation takes part in DIMDEX 2014 from March 25 to 27 in Doha (Qatar). 2014/04/16 Dassault Aviation rolls out 250th Falcon 7X Another milestone in the Falcon 7X program was reached this week with the roll out of the 250th aircraft at Dassault Aviation's Charles Lindbergh Hall in Mérignac near Bordeaux, France. 2014/04/09 Elbit Systems and Dassault Aviation Awarded the 2014 Trophy for the Most Dynamic Partnership between France and Israel On Thursday, April 8, 2014, France's Foreign Minister and former Prime Minister Mr.
Dassault FR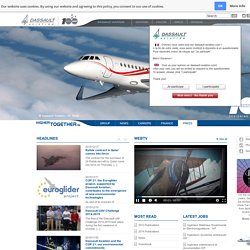 Gulfstream US
Hawker Beechcraft US
Cessna US