Web Design
net magazine is the number one choice for the professional web designer and developer. It's here that you find out about the latest new web trends, technologies and techniques – all in one handy package. Each issue boasts a wealth of expert tips and advice, including in-depth features and over 30 pages of advanced front- and backend tutorials on subjects as diverse as CSS, HTML, JavaScript, WordPress, PHP, and plenty more. net compiles the hottest new sites from around the web, and being the voice of web design, our mission is to source the best articles written by the best people in the industry and feature interviews and opinions crammed with inspiration and creative advice. In short, If you're serious about web design and development, then net is the magazine for you. Editorial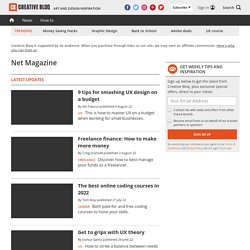 If you're like me, you'll agree that the initial design phase of a project can be time consuming, fraught with frustration and rarely meets client expectations at the first approval meeting. What if there was a better way to approach things? With Style Tiles, the newest kid on the design-methodology block, there is. Some say that the days of creating full mockups for webdesign projects in Photoshop are dying, if not outright dead.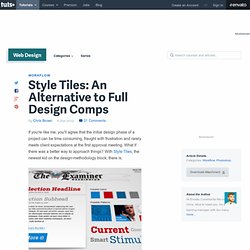 Style Tiles: An Alternative to Full Design Comps
Introduction - Treehouse
Inspiration / Resources Sites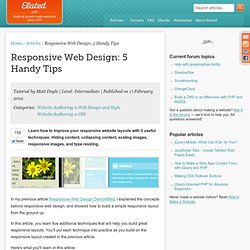 Tutorial by Matt Doyle | Level: Intermediate | Published on 17 February 2012 Categories: Learn how to improve your responsive website layouts with 5 useful techniques: Hiding content, collapsing content, scaling images, responsive images, and type resizing. In my previous article Responsive Web Design Demystified, I explained the concepts behind responsive web design, and showed how to build a simple responsive layout from the ground up. In this article, you learn five additional techniques that will help you build great responsive layouts.
Responsive Web Design: 5 Handy Tips
40+ Well Designed Apps for Running Your Freelance Business
There are hundreds of business apps out there for running virtually any kind of small business online. And a lot of those apps are well-suited, functionally, for designers. But there's something a lot of them are lacking: good design! After all, we're designers.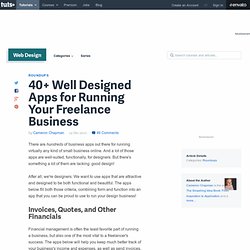 Mind Blowing Parallax Scrolling Sites
Video games often use parallax scrolling technique to create an illusion of depth by moving multiple layers of images at different speed. This technique can also be applied in web design. This post consists a list of mind blowing parallax scrolling sites, design tips, and resource tutorials. If you are considering to start a parallax scrolling site, this is a must read post.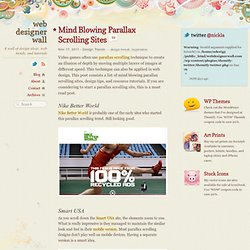 For our first inspirational list of 2014 we decided to gather examples of white type in web design. I'm always browsing css galleries and other sites to find nice things to show here, and I noticed that a lot of sites use the dark/colorful background white type combo. This is why I decided to dedicate a list to it. Whether you are using a beautiful background image, a texture, or even a big video, overlaying white type can create a very dramatic effect. Text effects are used in almost everything we see: whether it a simple inner or drop shadow, a subtle gradient, or a full-blown illustrated header. Below we have a selection of thirty great tutorials from across the design community, ready for you to follow and pick up tons of new techniques. You'll be a text-effect master before we can say the word "go!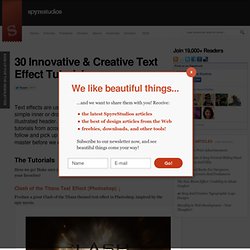 Close Photoshop and Grab a Pencil: The Lost Art of Thumbnail Sketches
Long before web UI mockups came along, print designers would hone their ideas using a tried and true method called thumbnail sketching. This practice seems to be somewhat of a lost art so we're going to shed some light on it! Today we'll briefly discuss what thumbnail sketches are, some tips for creating them and how to effectively implement them into your already busy workflow. Before Wireframing, Thumbnail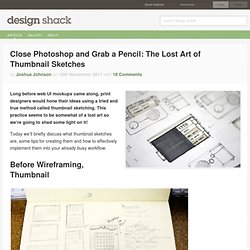 464 shares 8 Free & Useful Minimal Icon Sets Icons are certainly a very important element of a design. It doesn't matter if you are putting together a website or app, icons will be the key for several user interactions. This is why it's always good to fill your library with good icons you can count on.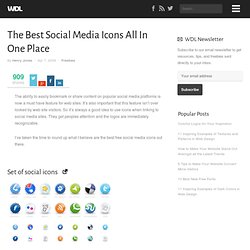 What makes a successful icon designer? Is it their skills in digital rendering, the clever ideas they have or is it something else? The truth is, it's managing to be many things at once and keeping a balance between communicating a concept and crafting great designs. Do you have what it takes to be a productive, happy and successful icon designer? Find out at the jump.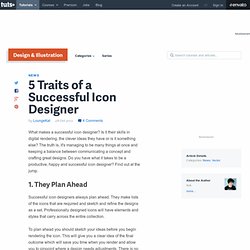 5 Traits of a Successful Icon Designer
30 Awesomely Designed Resumes