Calendar
Get flash to fully experience Pearltrees
Hi All, We all are familiar with coloring events in Outlook calendar. Question is can we have the same deal with SharePoint calendar and the answer is yes we can have. In this article, I am going to share few tips on how to achieve this functionality. To achieve this, first create one field in Calendar list. For example, give it a name "Category".
PlanetWilson Colour Calendar Read more Read more Here at PlanetWilson Ltd we know a thing or two about SharePoint. Whether it's advice on how best to implement it at your organisation, avoiding the common pitfalls and bad practice that plague many organisations, to help architecting, designing and installing your implementation. We are experts at customisation and development on the SharePoint platform. Additionally we have many years experience in ASP.NET and Microsoft technologies in general.
http://www.tonstegeman.com/Blog/Lists/Posts/Post.aspx?List=70640fe5%2D28d9%2D464f%2Db1c9%2D91e07c8f7e47&ID=60 In the new version of the Content By Type webpart, I added the option to rollup items into a calendar. In a later post I will describe how you can do that using the webpart. In this post I will show you how I did it in the code.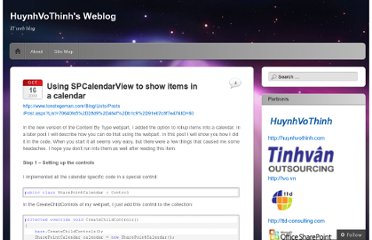 Hello I have created a calendar web part. I am trying to give different colors to the events in SPCalendarView available with Sharepoint 2007. I am trying following code
An expanded version of this article, along with many other customization examples and how-tos can be found in my book, SharePoint 2007 and 2010 Customization for the Site Owner . Updated 9/6/11 Service Pack 1 broke my color coded calendar code! For details see here. The code below has been updated to work with both the pre-SP 1 and SP 1 installations.
<div id="noscript-padding"></div> Stack Exchange log in | chat | meta | about | faq