Fitness
Warm Up With Cardio, Then Go To Weights. Right? Wrong.
Gwyneth Paltrow's Arm and Ab Moves: Healthy Stars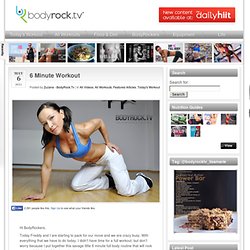 Hi BodyRockers, Today Freddy and I are starting to pack for our move and we are crazy busy. With everything that we have to do today, I didn't have time for a full workout, but don't worry because I put together this savage little 6 minute full body routine that will rock you out. I think that it is always better to do something than to skip your training completely, and this workout may come in a small package, but as you can see in the video, if you are pushing it at your max effort – full throttle – you won't have anything left after 6 minutes. This is a perfect solution if you find yourself really busy and pressed for time – and you can also extend the torture by doing this 2 times back to back.
Lift Up - Lift Up in Staddle Stretch
Oversplits are splits in which one leg is flat on the ground and the other leg is pulled higher. In oversplits, the angle between the legs exceeds 180 degrees. Extreme flexibility is required for oversplits. Do not attempt oversplits until you are very comfortable in a full split position.Using cubes or some sort of sturdy support, place your body into a split position.Try to hold the stretch for a few seconds, being careful not to strain your muscles.Oversplits may also be performed by elevating only one leg at a time.
Split - Oversplit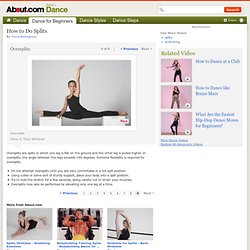 Flat Abs Pictures Slideshow: 9 Tips for Flat Abs from WebMD