Economics
The Economist explains: Why does America regulate the trade in raisins?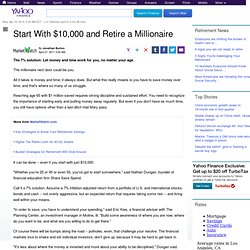 The 7% solution: Let money and time work for you, no matter your age. The millionaire next door could be you. All it takes is money and time; it always does. But what this really means is you have to save money over time, and that's where so many of us struggle. Reaching age 65 with $1 million saved requires strong discipline and sustained effort. You need to recognize the importance of starting early and putting money away regularly.
start-with-10k-retire-millionaire-marketwatch: Personal Finance News from Yahoo! Finance
The $1 billion that no one in the United States wants | The Lookout
Dollar coins at the Department of the Treasury, United States Mint in Philadelphia Budget cuts thanks to the stalled economy have imperiled care for the mentally ill, left a new school building unstaffed, and perhaps most disastrously, limited efforts to keep nukes out of the hands of terrorists. And yet the Federal Reserve Bank of Richmond is sitting on $1 billion in gold dollar coins it says the American public has little interest in using. Two reporters from NPR's Planet Money visited the facility where the coins are kept, in Baltimore, Md., and offer up a report about the stash of funds that the American public doesn't care for, Meanwhile, even as the coins gather dust, American taxpayers are paying top dollar (as it were) to store the surplus--and even to increase it.
The Federal Reserve Stores $1 Billion In Dollar Coins That No One Wants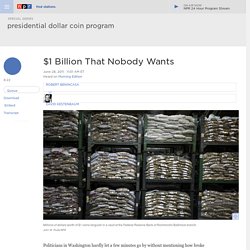 hide captionMillions of dollars worth of $1 coins languish in a vault at the Federal Reserve Bank of Richmond's Baltimore branch. John W. Poole/NPR Millions of dollars worth of $1 coins languish in a vault at the Federal Reserve Bank of Richmond's Baltimore branch.
By Matthew Yglesias on March 28, 2011 at 10:00 am "Adventures in Non-Destructive Budget Cutting" You can't balance the budget this way, but you can't balance the budget by cutting food stamps either and this idea wouldn't really hurt anyone: Earlier this month, the U.S. Government Accountability Office issued a formal proposal to the Treasury and Federal Reserve noting that if it eliminated the $1 bill and replaced it with the $1 coin, the country could save roughly $5.5 billion during the next 30 years. The reason, according to the agency's report, is that dollar bills have a shorter lifespan than dollar coins because they wear much faster, which in turn requires the government to spend more to print new bills.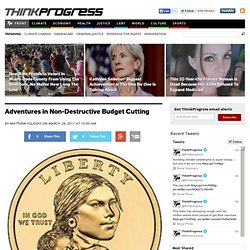 Adventures in Non-Destructive Budget Cutting