Business
It's November 2009 and we're nearing the end of a decade. It's been a tumultuous time of change for many industries, much of it driven by the Internet. The newspaper industry has been particularly affected by the Web.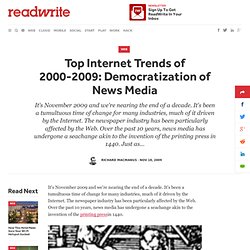 Top Internet Trends of 2000-2009: Democratization of News Media
Patent Prowess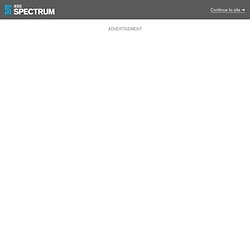 Dominating electronics once again are Hitachi, Matsushita, Xerox Corp., and Sony, just as it was in 2006. Cisco, Nokia, and Motorola remained at the top in Telecom Equipment, and General Motors, Nippnondenso, and Toyota led the way in the Automotive category. These are industries where the barriers to entry are so high that the leading companies change very little year by year.
Smashing Apps has been featured at Wordpress Showcase. If you like Smashing Apps and would like to share your love with us so you can click here to rate us. Advertisement Free file hosting is not a problem now a days but to find a great high speed website that can help you to send or recieve your large files in an easier is really hard. We also know that people have a love and hate relationship with free file hosting sites.
11 Free Websites To Send And Recieve Large Files Quickly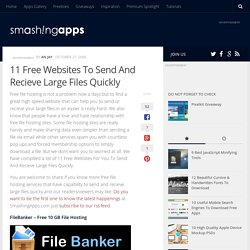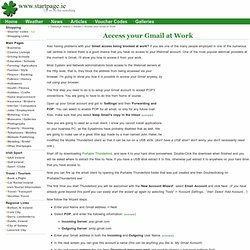 Also having problems with your Gmail access being blocked at work? If you are one of the many people employed in one of the numerous call centres in Ireland there is a good chance that you have no access to your Webmail account. One of the most popular webmail providers at the moment is Gmail, I'll show you how to access it from your work. Most System and Network administrators block access to the Webmail servers at the Http level, that is, they block the address from being accessed via your browser.
Access your Gmail at Work - Startpage Ireland
Better than free - Kevin Kelly
[Translations: Belarusian, Chinese, French, German, Italian, Japanese, Polish, Portuguese, Russian, Spanish, Turkish] The internet is a copy machine. At its most foundational level, it copies every action, every character, every thought we make while we ride upon it.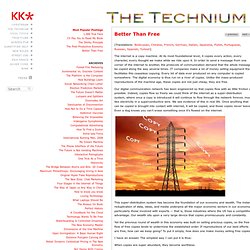 E-Government Meets Web 2.0: Goodbye Portals, Hello Web Services
Gartner recently released a couple of reports on how web 2.0 technologies are being used in e-Government. The reports are entitled The E-Government Hype Cycle Meets Web 2.0 and Government and Web 2.0: The Emerging Midoffice. Both are about how modern e-government efforts are moving away from the 'one stop shop' portal approach that characterized early efforts, and are turning more towards mashups and (to quote the first Gartner report) "a number of mostly adventurous initiatives with blogs, wikis or islands in Second Life."
How to answer 23 of the most common interview questions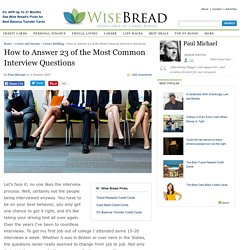 Wise Bread Picks [Editor's note: If you recently lost your job, take a look at Wise Bread's collection of tips and resources for the recently laid off.] Let's face it; no one likes the interview process. Well, certainly not the people being interviewed anyway. You have to be on your best behavior, you only get one chance to get it right, and it's like taking your driving test all over again. Over the years I've been to countless interviews.
Written by Alex Iskold and edited by Richard MacManus. John Markoff's recent article in NY Times has generated an interesting discussion about Web 3.0 being the long-promised Semantic Web. For instance, a short post on Fred Wilson's blog had a lot of lengthy comments attempting to define Web 1.0, Web 2.0 and Web 3.0. Some people think that the Semantic Web is about AI, some claim that it is more about semantics, while others say that it is about data annotation. All agree however, that we will all be wonderfully more productive and simply happier when it arrives. Lets take a look at the ingredients, definitions and approaches to the Semantic Web so that we can recognize it when it is finally here.
The Road to the Semantic Web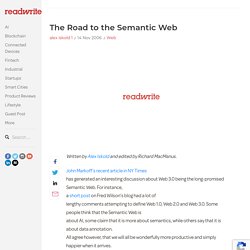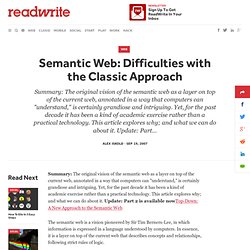 Summary: The original vision of the semantic web as a layer on top of the current web, annotated in a way that computers can "understand," is certainly grandiose and intriguing. Yet, for the past decade it has been a kind of academic exercise rather than a practical technology. This article explores why; and what we can do about it. Update: Part 2 is available now Top-Down: A New Approach to the Semantic Web The semantic web is a vision pioneered by Sir Tim Berners-Lee, in which information is expressed in a language understood by computers. In essence, it is a layer on top of the current web that describes concepts and relationships, following strict rules of logic.
Semantic Web: Difficulties with the Classic Approach
49 ways to build your brand using online marketing
Building a brand from scratch is not an easy thing to do, especially if you are in a market that is very competitive. How does one start to rise above the noise to distinguish themselves as a heavy hitter? What techniques and tricks can you use to reach your brand awareness goals? Below I have outlined some of the most effective ways to build your brand using online marketing techniques. Video Marketing: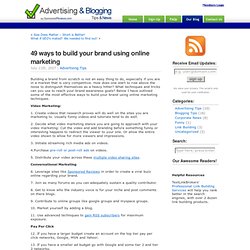 usability professionals from NYTimes: They Make It Really Work -
Because of Truemors, I've learned a lot about launching a company in these "Web 2.0" times. Here's quick overview "by the numbers." 0. I wrote 0 business plans for it.
How I built a Web 2.0, User-Generated Content, Citizen Journalis
Web design and SEO in Canberra Australia
We've been helping businesses succeed on the web for over ten years and understand that you need actual business results from your website. Building the site is only the first step in establishing and maintaining a successful web strategy. We host your site and work closely with you to ensure that the site is working well for you so that your results can be easily maintained and improved.
The BBC's Fifteen Web Principles
40+ Ways to Make Money on the Internet - by Dumb Little Man
How to Run a Meeting Like Google
Bloomberg Businessweek Continue to Businessweek Sign in with Facebook Or use your Businessweek account Forgot password?
How to Win With Google AdWords
Most businesses want a cost-effective way to bring in more customers. The challenge is to find prospects who are thinking about your products at the exact time that you reach them. With the advent of Google AdWords, it's possible to target prospects at the very moment they're thinking about buying your products or services.
Almost everyone stuck in a cubicle dreams of starting his own business. Here are 5 ways to use your current gig to launch a new venture. (Business 2.0 Magazine) - If you're reading this, there's a good chance that you've always wanted to launch your own startup. According to our research, roughly half of all Business 2.0 readers dream of founding their own companies. Odds are, however, that you're still working for someone else.
5 ways to start a company (without quitting your day job) - May
Become a Gmail master - Lifehacker
How to Start a Business without Money
how I saved $100 million on the web
Ideas for Startups
PassingNotes.com
Current Cool Friend Interview
This I Believe! - Tom Peter's 60 TIBs
Aspiring Towards Auto-Pilot: Automate Your Business Marketing [F
How We Got Started - Fortune Small Business