Épigraphie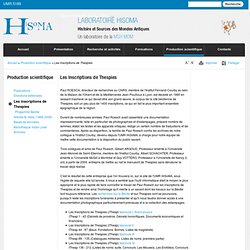 Paul ROESCH, directeur de recherches au CNRS, membre de l'Institut Fernand-Courby au sein de la Maison de l'Orient et de la Méditerranée Jean-Pouilloux à Lyon, est décédé en 1990 en laissant inachevé ce qui devait être son grand œuvre, le corpus de la cité béotienne de Thespies, soit un peu plus de 1400 inscriptions, ce qui en fait le plus important ensemble épigraphique de la région. Durant de nombreuses années, Paul Roesch avait rassemblé une documentation impressionnante, faite en particulier de photographies et d'estampages, préparé nombre de lemmes, établi les textes et les apparats critiques, rédigé un certain nombre de traductions et de commentaires. Après sa disparition, la famille de Paul Roesch confia les archives de notre collègue à l'Institut Courby, devenu depuis l'UMR HiSoMA, à charge pour notre équipe de mettre cette documentation à la disposition du public savant.
Les Inscriptions de Thespies | Laboratoire HISOMA
Groups > EpiDig
ALA: Aphrodisias in Late Antiquity: The Late Roman and Byzantine Inscriptions, by Charlotte Roueché, King's College London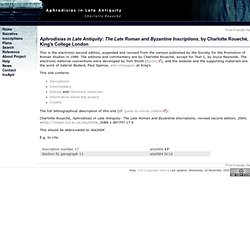 This is the electronic second edition, expanded and revised from the version published by the Society for the Promotion of Roman Studies in 1989. The editions and commentary are by Charlotte Roueché, except for Text 1, by Joyce Reynolds. The electronic editorial conventions were developed by Tom Elliott (EpiDoc), and the website and the supporting materials are the work of Gabriel Bodard, Paul Spence, and colleagues at King's. This site contains: The full bibliographical description of this site (cf. guide to online citation): Charlotte Roueché, Aphrodisias in Late Antiquity: The Late Roman and Byzantine Inscriptions, revised second edition, 2004, <http://insaph.kcl.ac.uk/ala2004>, ISBN 1 897747 17 9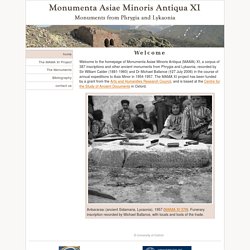 Monumenta Asiae Minoris Antiqua XI: Welcome
Welcome to the homepage of Monumenta Asiae Minoris Antiqua (MAMA) XI, a corpus of 387 inscriptions and other ancient monuments from Phrygia and Lykaonia, recorded by Sir William Calder (1881-1960) and Dr Michael Ballance (†27 July 2006) in the course of annual expeditions to Asia Minor in 1954-1957. The MAMA XI project has been funded by a grant from the Arts and Humanities Research Council, and is based at the Centre for the Study of Ancient Documents in Oxford. Anbararası (ancient Sidamaria, Lycaonia), 1957 (MAMA XI 378). Funerary inscription recorded by Michael Ballance, with locals and tools of the trade.
Epigraphische Datenbank Heidelberg (EDH)
Institut für Altertumskunde: Downloads
Épigraphie en réseau | Réflexions sur les potentialités d'innovations dans la représentation numérique des inscriptions et leurs contenus historiques
Accueil - Epigraphie et histoire des cités grecques - Denis Knoepfler
Current Epigraphy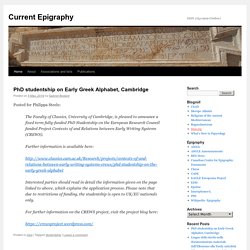 Posted on behalf of Assessorato alla Cultura- Comune di Pizzighettone **With apologies for cross-posting. Please forward to interested parties**
CLAROS: Présentation
Packard Humanities Institute - Greek Epigraphy