Love Letter
English language did you knows. The Best 100 Opening Lines From Books. Chosen by: Clare Balding "It was the best of times, it was the worst of times, it was the age of wisdom, it was the age of foolishness, it was the epoch of belief, it was the epoch of incredulity, it was the season of Light, it was the season of Darkness, it was the spring of hope, it was the winter of despair, we had everything before us, we had nothing before us, we were all going direct to Heaven, we were all going direct the other way."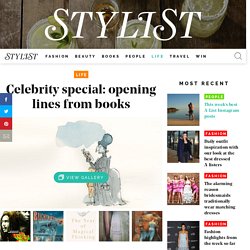 A Tale Of Two Cities, Charles Dickens. Baggage. After a day at the races in England, a friend told Mark Twain, "I wish you'd buy me a ticket back to London.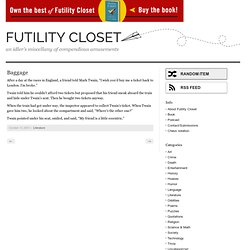 I'm broke." Twain told him he couldn't afford two tickets but proposed that his friend sneak aboard the train and hide under Twain's seat. Then he bought two tickets anyway. When the train had got under way, the inspector appeared to collect Twain's ticket. Do not Stand at my Grave and Weep. Do Not Stand at My Grave and Weep is a poem written in 1932 by Mary Elizabeth Frye.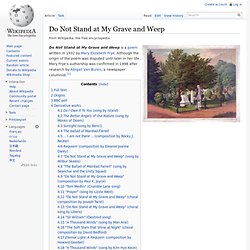 Although the origin of the poem was disputed until later in her life, Mary Frye's authorship was confirmed in 1998 after research by Abigail Van Buren, a newspaper columnist.[1] Full text[edit] Do not stand at my grave and weep, 6:59 AM - Riley Dog.
---