Visa till Jarmo
- StumbleUpon
Resultados de la búsqueda sobre Tórshavn - TripAdvisor
Browsers & People
Gastronomía Mexicana Patrimonio Nacional por la UNESCO
The Faroe Islands on Vimeo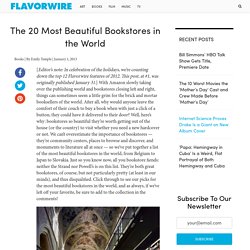 [ Editor's note: In celebration of the holidays, we're counting down the top 12 Flavorwire features of 2012. This post, at #1, was originally published January 31. ] With Amazon slowly taking over the publishing world and bookstores closing left and right, things can sometimes seem a little grim for the brick and mortar booksellers of the world.
I Don't Remember... I don't remember, any more, The exact shape of your hands As I held them in mine, Caressed them, Memorized the length of your fingers, The depth of your calluses. I don't remember, any more, Exactly your height, how much Taller than me You were, where My head rested on your chest When you held me tightly close. I don't remember, any more, Your scent, when we lay together Creating our own Magic rhythm, Matching our heartbeats as we Touched the sky, together. I don't remember, any more, The sound of your voice, calling My name as though It were a song Within itself, a precious treasure You valued with all your being. And I don't remember, any more, The color of your eyes, the shape Of your lips, Only...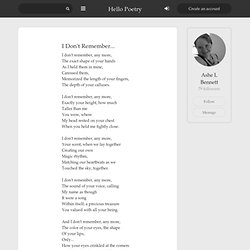 post written by: Marc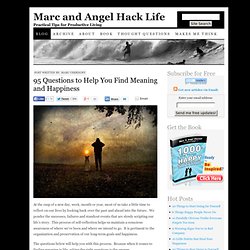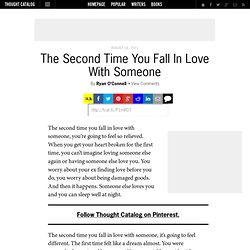 The second time you fall in love with someone, you're going to feel so relieved. When you get your heart broken for the first time, you can't imagine loving someone else again or having someone else love you. You worry about your ex finding love before you do, you worry about being damaged goods. And then it happens.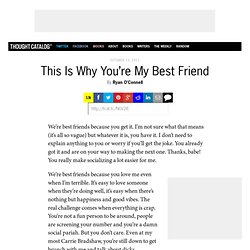 We're best friends because you get it.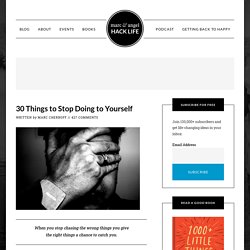 post written by: Marc