Jello shots
That's so Michelle...: The Original Caramel Apple Jello Shots [With Real Apples]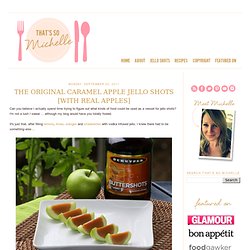 Can you believe I actually spend time trying to figure out what kinds of food could be used as a vessel for jello shots? I'm not a lush I swear ... although my blog would have you totally fooled. It's just that, after filling lemons, limes, oranges and strawberries with vodka infused jello, I knew there had to be something else ...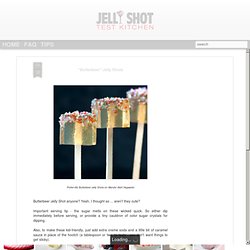 Butterbeer Jelly Shots
Potter-rific Butterbeer Jelly Shots on Wands! Alert Hogwarts! Butterbeer Jelly Shot anyone? Yeah, I thought so ... aren't they cute? Important serving tip - the sugar melts on these wicked quick. So either dip immediately before serving, or provide a tiny cauldron of color sugar crystals for dipping.
Jelly Shot Test Kitchen
10 Jello Shots Worth the Hangover
The food blogging world has taken the classic frat house Jello shot and broken the mold (literally) by replacing the Popov vodka and dixie cups with exotic ingredients and fancy molds.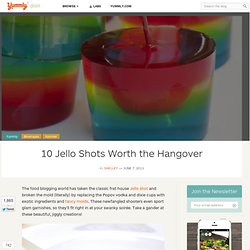 10 Jello Shots Worth the Hangover