App 4 phone
Get flash to fully experience Pearltrees
Ainda não está muito claro se a tecnologia é realmente o motor das transformações que o mundo vem vivendo ou se, inversamente, a necessidade de mudanças dita novos padrões para a indústria. De toda forma, é praticamente consenso que com o potencial de comunicação direta entre indivíduos e difusão de mensagens em massa que as novas mídias têm, colocar paradigmas em xeque, questionando modelos e organizando revoluções se tornou mais fácil. - Veja aqui a cobertura completa da HSM ExpoManagement 2011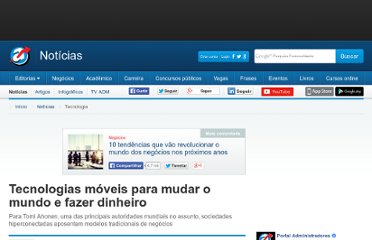 It's no secret how much most people are attached to their cellphones, but now TeleNav has released a survey showing just how willing Americans are to give up the finer things in life so they can still hang onto that handset.
Smartphones | 12/08/2011 17:23 O porta-voz do Google Jay Nancarrow disse que especialistas em segurança do Android discutiram a pesquisa com Hassell e não concordaram que ele tivesse descoberto problemas
The growth of mobile malware has skyrocketed in the past two years. Malware specific to Android devices in particular has been making headlines as of late.
Redação Macworld Brasil
iPhone e Android (grátis)