Tools-Making Life Easier
Make your own book. Make it great. TinEye Reverse Image Search. Limeade. Cloudomatic | Discover Business Web Apps (SaaS). TwentyFeet - Social Media Monitoring & Ego tracking.
Logiciels CRM, Gestion de la Relation Client - salesforce.com France. How to merge pdf files with preview in Leopard | Macintosh How To. Combining pdf documents on an Apple computer is easy.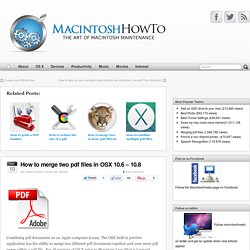 Leopard, Snow Leopard, Lion and Mountain Lion (the latest versions of Macintosh OSX) all have the ability to merge two different pdf documents together and even move pdf pages within a pdf file. There are lots of websites offering to sell software to do it, but you don't need a third party program to do it – it's built right in to OS X for free. LiveBooks - websites for photographers, designers and other creative professionals. You Publish.
---