China News
Just a reminder, this is available on iTunes on June 18, 2013 "Zola" in High Tech, Low Life. Photo Credit: Stephen Maing. New York, May 20, 2013 – HIGH TECH, LOW LIFE, award-winning filmmaker Stephen Maing's chronicle of two of China's first citizen reporters as they travel the country documenting underreported news and social issues stories while facing censorship for leaping China's 'Great Firewall' – will be released June 18 on iTunes in North America, with a roll-out on other digital platforms [...]Read more…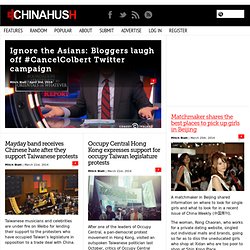 s January 2009 Trend Briefing, covering half a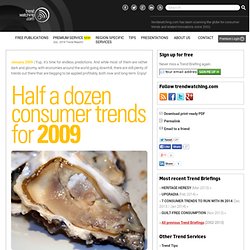 January 2009 | Yup, it's time for endless predictions. And while most of them are rather dark and gloomy, with economies around the world going downhill, there are still plenty of trends out there that are begging to be applied profitably, both now and long-term. Enjoy! Let's begin with NICHETRIBUTES, which is about the power of making products and services relevant by incorporating 'attributes' and features that cater to distinct (if not niche) consumer lifestyles and situations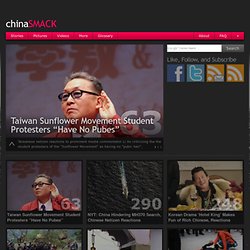 Two hacked to death in fight between two groups of Chinese people in Guangdong who used the toilets at the same time and didn't like the look of each other. English translation of a 1976 graphic novel of a Red Guard little girl reporting her grandfather to authorities as a Soviet spy, with Chinese netizen reactions. Chinese netizen reactions to a funny diagram (Doghouse Diaries "Bed Cartography") showing how pillows and space on a bed is divided between husband and wife. Photos of Chinese passengers asleep in awkward positions on the L199 train (Hangzhou to Guiyang), heading home for the Chinese New Year/Spring Festival holiday.
interview | a chat with blueprint, a digital creative collective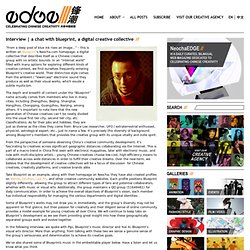 "From a deep pool of blue ink rises an image…" – this is written on Blueprint's Neocha.com homepage, a digital collective that describes itself as a Chinese creative group with no artistic bounds. In an "Internet world" filled with many options for exploring different kinds of creative content, we find ourselves frequently entering Blueprint's creative world. Their distinctive style comes from the ambient / "lowercase" electronic sound they produce as well as their visual works, which exude a subtle mysticism. The depth and breadth of content under the "Blueprint" name actually comes from members who live in many cities, including Zhengzhou, Beijing, Shanghai, Hangzhou, Chongqing, Guangzhou, Nanjing, among others.