China News CY Career Brochure from Lisa Li CY Career Brochure <Click to view or Download> We know we've been a little quiet lately, but that's because we've been busy getting down to work! China Youthology has just released a new Company Introduction & Career Opportunities packet geared towards fresh graduating researchers and aspiring Youthologists. Browse through it Continue Reading...
China Youth Watch by China Youthology 青年志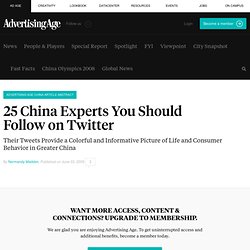 HONG KONG (AdAgeChina.com) - Taking a cue from Ad Age's MediaWorks newsletter (" 25 Media People You Should Follow on Twitter "), AdAgeChina offers a list of 25 China experts you should follow on Twitter. Yes, we know the Chinese government has blocked Twitter (" China's Net Nanny Blocks Twitter "), but many of these active Twitter users have found alternative ways to keep posting on the site and we hope the service will resume its normal status soon. We've also included a list of their recent tweets, all posted in English, to give you an idea of what they write about. As a group, they provide a colorful and informative picture of life and consumer behavior in Greater China. Use the comments section to add the ones we missed -- and there are plenty more to choose from, given the rapid growth of Twitter in China in the past year -- or send us a tweet at @AdAgeChina .
s January 2009 Trend Briefing, covering half a
January 2009 | Yup, it's time for endless predictions. And while most of them are rather dark and gloomy, with economies around the world going downhill, there are still plenty of trends out there that are begging to be applied profitably, both now and long-term. Enjoy! Let's begin with NICHETRIBUTES, which is about the power of making products and services relevant by incorporating 'attributes' and features that cater to distinct (if not niche) consumer lifestyles and situations.*
China Youth Watch by China Youthology 青年志
interview | a chat with blueprint, a digital creative collective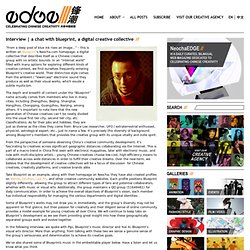 "From a deep pool of blue ink rises an image…" – this is written on Blueprint 's Neocha.com homepage, a digital collective that describes itself as a Chinese creative group with no artistic bounds. In an "Internet world" filled with many options for exploring different kinds of creative content, we find ourselves frequently entering Blueprint's creative world. Their distinctive style comes from the ambient / "lowercase" electronic sound they produce as well as their visual works, which exude a subtle mysticism. The depth and breadth of content under the "Blueprint" name actually comes from members who live in many cities, including Zhengzhou, Beijing, Shanghai, Hangzhou, Chongqing, Guangzhou, Nanjing, among others.