Atheism
[Photo - 160677] | I Dont Want to Live on This Planet Anymore | Know Your Meme
- StumbleUpon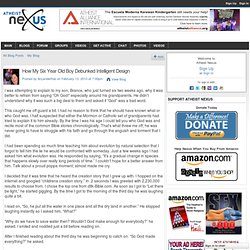 I was attempting to explain to my son, Brance, who just turned six two weeks ago, why it was better to refrain from saying "Oh God!" especially around his grandparents. He didn't understand why it was such a big deal to them and asked if "God" was a bad word. This caught me off guard a bit. I had no reason to think that he should have known what or who God was. I half suspected that either the Mormon or Catholic set of grandparents had tried to explain it to him already.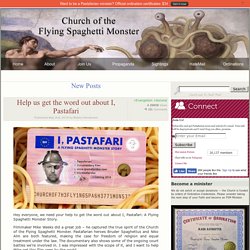 The Holy Colander, blessed of His Noodlyness because He Boiled for Us inside it, has once again confirmed its rightful place among the Holiest of religious head garments! Aaron Williams, an Egg Harbor NJ Pastafarian and Sauced Beyond Marinated, has paid tribute to the just Licencing Laws of New Jersey and honoured Lord Glob by wearing the Holy Colander for a renewal photo. Joining Niko Alm with the desire to etch his devotion to the One True Monster in perpetuity, Aaron insisted that the Colander did not breach the Licencing Law. Despite Aaron Spreading the Truth, the Unenlightened, dedicated as they are to the Law of New Jersey, were compelled to refer this Holy Matter to the State. Here are some excerpts of Aaron's Epistles of Enlightenment to the MVC from the original South Brunswick Patch report written by Davy James: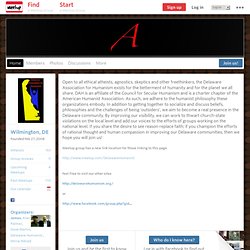 Delaware Association for Humanism (Wilmington, DE) - Meetup
Open to all ethical atheists, agnostics, skeptics and other freethinkers, the Delaware Association for Humanism exists for the betterment of humanity and for the planet we all share. DAH is an affiliate of the Council for Secular Humanism and is a charter chapter of the American Humanist Association. As such, we adhere to the humanist philosophy these organizations embody. In addition to getting together to socialize and discuss beliefs, philosophies and the challenges of being 'outsiders', we aim to become a real presence in the Delaware community. By improving our visibility, we can work to thwart church-state violations on the local level and add our voices to the efforts of groups working on the national level. If you share the desire to see reason replace faith; if you champion the efforts of rational thought and human compassion in improving our Delaware communities, then we hope you will join us!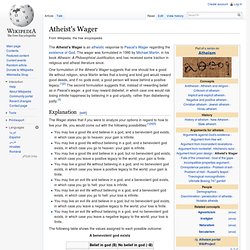 One formulation of the Atheist's Wager suggests that one should live a good life without religion, since Martin writes that a loving and kind god would reward good deeds, and if no gods exist, a good person will leave behind a positive legacy.[1][2] The second formulation suggests that, instead of rewarding belief as in Pascal's wager, a god may reward disbelief, in which case one would risk losing infinite happiness by believing in a god unjustly, rather than disbelieving justly.[3] Explanation[edit] The Wager states that if you were to analyze your options in regard to how to live your life, you would come out with the following possibilities:[1][4][5]
- StumbleUpon
By visiting this Web site you have announced to the world that you are an atheist! This announcement is permanent and irrevocable -- our automated system has already sent notification of your godlessness to both the Library of Congress and your mother. We will mention you to the Pope the next time we see him.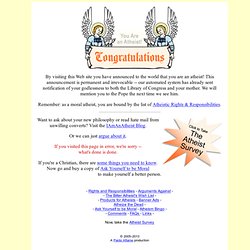 Mirror Site: Atheist In America Warning Another Warning Statement of Principle Atheists Among Us Mutual Respect Coming Out Atheism 101 Assertive Atheism Ten Commandments Atheist in America Christian Nation The Other Christian God God Endorses Cloning Everyone Is An Atheist Evolution Faithcraft Full Realization Atheism Jesus Was A Horse Thief Jesus Was A Human Public Prayer Size Counts Islam A Secular Pledge Judgment Cometh The Slocum Tirade Pascal's Wager Dover Decision Abbreviated The Brilliance of Jefferson The Brilliance of Madison Barker Tears A New One Gastrich Responds Affirmations of Humanism Frequently Asked Glossary