Webbie
URL Decoder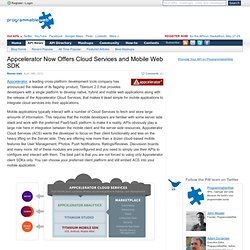 Appcelerator Now Offers Cloud Services and Mobile Web SDK
Appcelerator, a leading cross-platform development tools company has announced the release of its flagship product, Titanium 2.0 that provides developers with a single platform to develop native, hybrid and mobile web applications along with the release of the Appcelerator Cloud Services, that makes it dead simple for mobile applications to integrate cloud services into their applications. Mobile applications typically interact with a number of Cloud Services to fetch and store large amounts of information. This requires that the mobile developers are familiar with some server side stack and work with the preferred PaaS/IaaS platform to make it a reality. APIs obviously play a large role here in integration between the mobile client and the server side resources. Appcelerator Cloud Services (ACS) wants the developer to focus on their client functionality and less on the heavy lifting on the Server side.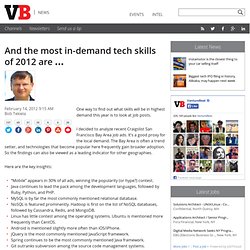 One way to find out what skills will be in highest demand this year is to look at job posts. I decided to analyze recent Craigslist San Francisco Bay Area job ads. It's a good proxy for the local demand.
And the most in-demand tech skills of 2012 are …
This site provides a collection of schemas, i.e., html tags, that webmasters can use to markup their pages in ways recognized by major search providers. Search engines including Bing, Google, Yahoo! and Yandex rely on this markup to improve the display of search results, making it easier for people to find the right web pages. Many sites are generated from structured data, which is often stored in databases. When this data is formatted into HTML, it becomes very difficult to recover the original structured data.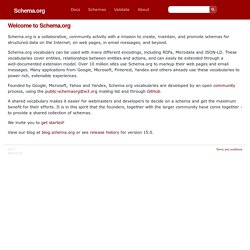 Oracle Oracle Oracle Technology Network > Java Challenge Win A Trip to JavaOne 2014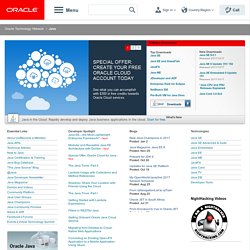 It's All Semantic With the New Text-Processing API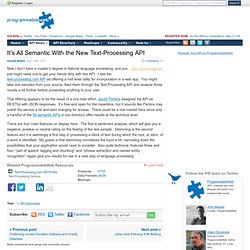 Now I don't have a master's degree in Natural language processing, and you just might need one to get your hands dirty with this API. I see the text-processing.com API as offering a mid-level utility for incorporation in a web app. You might take text samples from your source, feed them through the Text-Processing API and analyze those results a bit further before presenting anything to your user. This offering appears to be the result of a one man effort. Jacob Perkins designed his API as RESTful with JSON responses.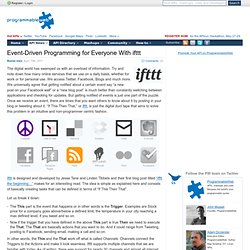 The digital world has swamped us with an overload of information. Try and note down how many online services that we use on a daily basis, whether for work or for personal use. We access Twitter, Facebook, Blogs and much more.
Event-Driven Programming for Everyone With ifttt
Grub | Help crawl it all
Search is part of the fundamental infrastructure of the Internet. And, it is currently broken. Why is it broken? It is broken for the same reason that proprietary software is always broken: lack of freedom, lack of community, lack of accountability, lack of transparency.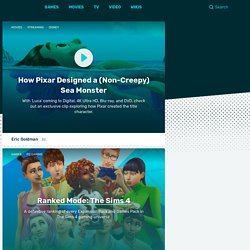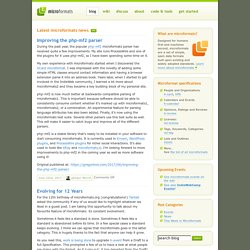 Last week the microformats.org community celebrated its 7th birthday at a gathering hosted by Mozilla in San Francisco and recognized accomplishments, challenges, and opportunities. Humans First: Admin Emeriti & New Admins The microformats tagline "humans first, machines second" forms the basis of many of our principles, and in that regard, we'd like to recognize a few people and thank them for their years of volunteer service as community admins: They've each been essential positive community contributors and guides over the years, and as admin emeriti are always welcome back should they decided to become admins again. We're also pleased to announce two new community admins: Both have similarly been consistent positive contributors to microformats for years, and we're very happy they've stepped up as community admins.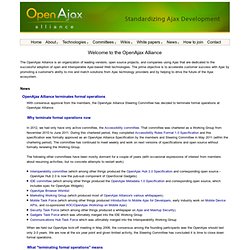 Alliance
The OpenAjax Alliance is an organization of leading vendors, open source projects, and companies using Ajax that are dedicated to the successful adoption of open and interoperable Ajax-based Web technologies. The prime objective is to accelerate customer success with Ajax by promoting a customer's ability to mix and match solutions from Ajax technology providers and by helping to drive the future of the Ajax ecosystem. News OpenAjax Alliance terminates formal operations
The GMPG can be explained as an experiment in Metamemetics. The first aim of Metamemetics is to create a structure of principles that foster the construction and propagation of elemental ideas. The GMPG attempts to stimulate simplification of virtual substructures and bring people to question established structures and their relationships. Because people are not used to seeing elemental technologies or concepts which are powerful and immediately usable, frequent and novel encounters with GMPG efforts provoke optimism and empowerment, nevertheless reawakening criticism of complexity and a desire for simplicity. Efforts
Welcome to GMPG