Webbie
URL Decoder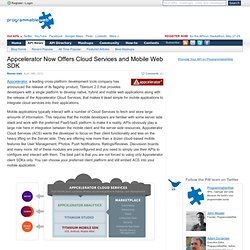 Appcelerator Now Offers Cloud Services and Mobile Web SDK
Appcelerator, a leading cross-platform development tools company has announced the release of its flagship product, Titanium 2.0 that provides developers with a single platform to develop native, hybrid and mobile web applications along with the release of the Appcelerator Cloud Services, that makes it dead simple for mobile applications to integrate cloud services into their applications. Mobile applications typically interact with a number of Cloud Services to fetch and store large amounts of information. This requires that the mobile developers are familiar with some server side stack and work with the preferred PaaS/IaaS platform to make it a reality. APIs obviously play a large role here in integration between the mobile client and the server side resources. Appcelerator Cloud Services (ACS) wants the developer to focus on their client functionality and less on the heavy lifting on the Server side.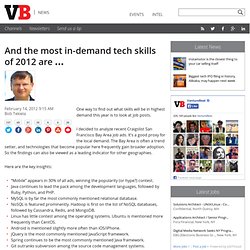 One way to find out what skills will be in highest demand this year is to look at job posts. I decided to analyze recent Craigslist San Francisco Bay Area job ads. It's a good proxy for the local demand.
And the most in-demand tech skills of 2012 are …
It's All Semantic With the New Text-Processing API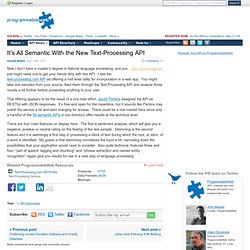 Now I don't have a master's degree in Natural language processing, and you just might need one to get your hands dirty with this API.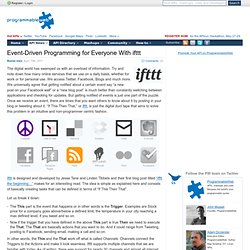 The digital world has swamped us with an overload of information. Try and note down how many online services that we use on a daily basis, whether for work or for personal use. We access Twitter, Facebook, Blogs and much more.
Event-Driven Programming for Everyone With ifttt
Grub | Help crawl it all
Alliance
Welcome to GMPG