To-share
Swarm robots form landing pad for quadrotor | Crave. I love swarm robots, especially when they pull off tricks that you can easily imagine a robot army doing.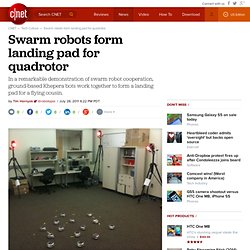 Researchers at the Georgia Robotics and Intelligent Systems Lab have been having fun with small Khepera robots and a quadrotor. Ted Macdonald and colleagues previously taught the rolling bots to spell the lab's acronym, GRITS, as seen in this video. TextBook Exchange Bags Top Honors in Alibris API Contest. Alibris, an online marketplace for Independent sellers of popular, collectible and bargain books, music and movies has announced the winners for its developer contest held in May.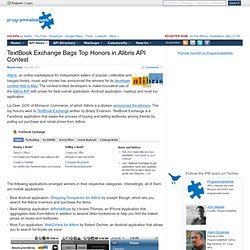 The contest invited developers to make innovative use of the Alibris API with prizes for best overall application, Android application, mashup and most fun application. Liz Deer, COO of Monsoon Commerce, of which Alibris is a division announced the winners. Anonymous To Build Its Own Social Network Called AnonPlus. Hacker collective Anonymous is preparing to launch its own social network called AnonPlus.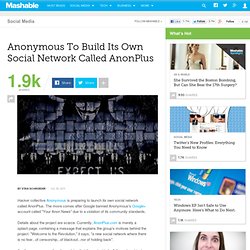 The move comes after Google banned Anonymous's Google+ account called "Your Anon News" due to a violation of its community standards. Details about the project are scarce. Currently, AnonPlus.com is merely a splash page, containing a message that explains the group's motives behind the project. "Welcome to the Revolution," it says, "a new social network where there is no fear...of censorship...of blackout...nor of holding back". Another message on the site explains that the project is for "all people not just anonymous," adding that the actual site will go up soon but it will not happen overnight.
Kindle textbook rentals arrive; used can still be cheaper. College students amassing piles of money to pay for textbooks this fall may get a reprieve with a new Amazon rental program that gets them up to 80 percent off list prices.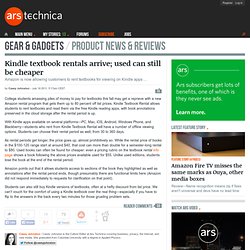 Kindle Textbook Rental allows students to rent textbooks and read them via the free Kindle reading apps, with book annotations preserved in the cloud storage after the rental period is up. With Kindle apps available on several platforms—PC, Mac, iOS, Android, Windows Phone, and Blackberry—students who rent from Kindle Textbook Rental will have a number of offline viewing options. Students can choose their rental period as well, from 30 to 360 days. Gen Y's Luxury Buys: Young People Crave Designer Brands. Gameloft accused of overworking employees. A former head programmer for mobile and iOS developer Gameloft has made some pretty damning accusations against the company in a complaint.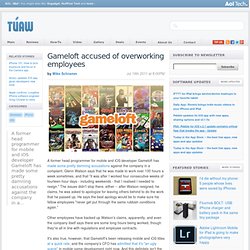 Glenn Watson says that he was made to work over 100 hours a week sometimes, and that "it was after I worked four consecutive weeks of fourteen-hour days - including weekends - that I realised I needed to resign. " The issues didn't stop there, either -- after Watson resigned, he claims, he was asked to apologize for leaving others behind to do the work that he passed up. He says the best apology would be to make sure his fellow employees "never get put through the same rubbish conditions again. " Other employees have backed up Watson's claims, apparently, and even the company itself says there are some long hours being worked, though they're all in line with regulations and employee contracts. HP Pavilion dm4-2070us laptop. Core-i5, 6GB RAM, 640GB HDD, $499.99 @ Staples after $150 ez rebates for students. Neighbor vs. neighbor as homeowner fights get ugly. The Inlet House condo complex in Fort Pierce, Fla., was once the kind of place the 55-and-older set aspired to.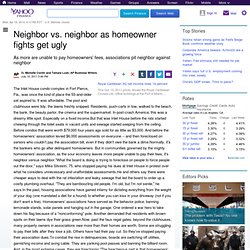 It was affordable. The pool and clubhouse were tidy, the lawns freshly snipped. Residents, push-carts in tow, walked to the beach, the bank, the beauty parlor, the cinema and the supermarket. In post-crash America, this was a dreamy little spot. Especially on a fixed income.But that was Inlet House before the rats started chewing through the toilet seats in vacant units and sewage started seeping from the ceiling. New Polymeric Car Paint Can Self-Heal Major Scratches, Dings. Professor Stuart Rowan at Case Western led a team of researchers to develop a self-healing coating.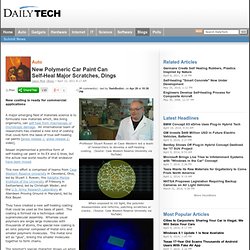 (Source: Case Western Reserve University via YouTube) When exposed to UV light, the polymer disassembles and reforms, patching scratches or cracks. (Source: Case Western Reserve University via YouTube) Why Are Other Democracies Better Off than the U.S. Is. Saturday's New York Times contained an interesting op-ed piece by Charles Blow, titled "American Shame. " The main item was a table listing the 33 countries designated as "advanced economies" by the International Monetary Fund and comparing them on various social and educational characteristics. Specifically, Blow charted income inequality, unemployment rates, level of democracy, the "percentage thriving" (according to the Gallup Global Well-Being Index), food insecurity, prison population, and student performance in math and science.
The bottom line: The United States is at the bottom of the heap on most of these measures, and at or near the top in none. It's a sobering collection of data, to be sure, but I wish Blow had added two more columns to his chart: 1) percentage of GDP devoted to defense, and 2) defense spending per capita. It's the Inequality, Stupid. Want more charts like these?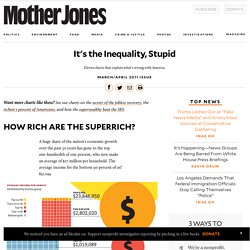 See our charts on the secrets of the jobless recovery, the richest 1 percent of Americans, and how the superwealthy beat the IRS. How Rich Are the Superrich? How Education Impacts Your Income (Graphic) California Foreclosures | ForeclosureRadar. New Sunlight Reactor Produces Fuel. The Mass Extinction of Scientists Who Study Species | Wired Science. We are currently in a biodiversity crisis.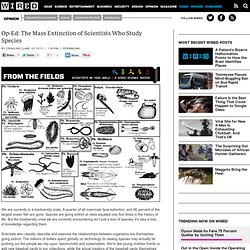 A quarter of all mammals face extinction, and 90 percent of the largest ocean fish are gone. Species are going extinct at rates equaled only five times in the history of life. But the biodiversity crisis we are currently encountering isn't just a loss of species, it's also a loss of knowledge regarding them. Scientists who classify, describe and examine the relationships between organisms are themselves going extinct. The Environmental Impact of Cell Phones. Just in time for next month's Verizon iPhone release, we present to you a bit of thought-provoking, guilt-tripping data. In this graphic by InfographicWorld was created for iAmGreen and brings to light some of the questions that nobody asks but everyone should. What happens to all of those cell phones that we simply stop using after we move on to the latest and greatest? A Cookbook Is The Latest Weapon In Fight Against Lionfish Invasion : Shots - Health News Blog.
Hide captionThe spiny, venomous lionfish can kill three-quarters of a reef's fish population in just five weeks, according to one study. Michael Dwyer/AP The spiny, venomous lionfish can kill three-quarters of a reef's fish population in just five weeks, according to one study. Those beautiful lionfish, native to Asian waters, are wreaking havoc in the Caribbean and off the coasts of a bunch of Southeastern states. The species got a finhold over here about 20 years ago.
Midlevel Providers Fill Primary Care Doctors' Shoes. Cult Classic Peel P50 Microcar Returns : Gas 2.0. The Peel P50 was built on the Isle of Man in the 1960′s and powered by a 49cc gas engine that pushed the car to a 40 mph top speed and delivered more than 80 mpg. It was the smallest production automobile ever built, and—despite only 70 examples being produced —has become wildly popular in microcar circles, especially since appearing in a 2007 segment of the BBC's hit show TopGear.
This new-found popularity and BBC visibility has breathed new life into the Peel concept, and new investment dollars mean that Peel is back in business! More, including the hilarious TopGear sketch, after the jump. Thanks to investment from another BBC show star (Dragon's Den's James Caan) Peel's Faizal Khan and Gary Hillman hope to produce a run of 50 new Peel microcars (faithful replicas to the original) in the hopes of re-launching Peel as a marketable brand, with marketing spin-offs and tie-ins to the car's spiritual home at the Isle of Man.
Did Bankers Rob the Middle Class? In the last decade, a greater share of money flowed to our banking system than almost any time in American history. Meanwhile, middle class wages continued their 30 year freeze. Are the two related? Are the banks robbing the middle class?
---