Games
The best first person candy simulation there is. Simulation Windows
Candy Jam - itch.io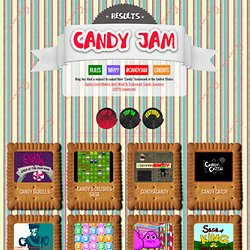 Superbrothers: Sword & Sworcery EP on the App Store on iTunes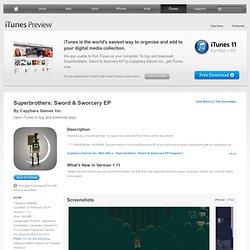 Description Selected as a "landmark title" by Apple to celebrate Five Years of the App Store! *****UNIVERSAL VERSION. Superbrothers: Sword & Sworcery EP is an exploratory action adventure with an emphasis on audiovisual style.
The Curfew
Games for Change | Games for Change is the leading global advocate for supporting and making games for social impact.
What People are Playing The first interactive project told from a Northern Cheyenne perspective. game details Experience hazards facing migrants and Border Patrol along border. game details Fight to be king of the (ant)hills in this real-time strategy game. game details
A unique award-winning computer program that helps young people learn skills to deal with feeling down, depressed or stressed. We are testing SPARX online. Access to SPARX is currently restricted to participants in a clinical trial underway in New Zealand. Once tested, we will work to make SPARX available more widely. Thanks for your interest. SIGN UP FOR SPARX (registered trial participants only)
SPARX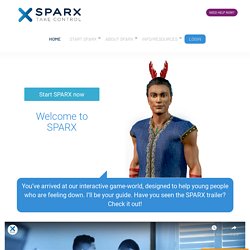 Wellcome: Axon Game
Hey everyone! I will be leading a Science Café about Foldit at the Southpaw Social Club, in San Diego, on April 28. The purpose of the event is to engage with the community in a casual, comfortable setting to talk about the exciting science of protein folding and the Foldit computer game. There will be a short presentation on the science behind Foldit, but the event is mostly dedicated to Q & A and open discussion with the audience. We're very excited about this opportunity to share Foldit in such a personable format! This is also a great chance for any Foldit players in the San Diego area to come together and talk to a member of the Foldit team.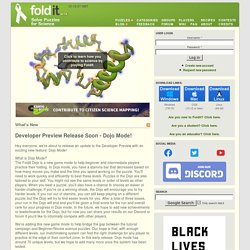 Solve Puzzles for Science | Foldit
Brain Games & Brain Training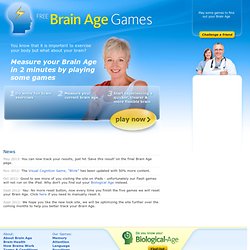 May 2013: You can now track your results, just hit 'Save this result' on the final Brain Age page. Nov 2012: The Visual Cognition Game, "Blink" has been updated with 50% more content. Oct 2012: Good to see more of you visiting the site on iPads - unfortunately our flash games will not run on the iPad. Why don't you find out your Biological Age instead. Sept 2012: Yay: No more reset button, now every time you finish the five games we will reset your Brain Age. Click here if you need to manually reset it.
Free Brain Age Games: Home
SMAC Demo (v1.1) - Downloads - WePlayCiv Forums
Play Scrabble online, email scrabble, scrabble board, scrabble on-line, scrabble game with chat room, scrabble games, word games, word puzzles
Darfur Is Dying - Play mtvU's Darfur refugee game for change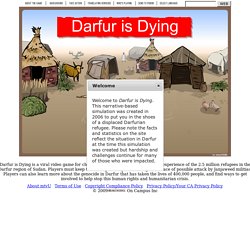 Darfur is Dying is a viral video game for change that provides a window into the experience of the 2.5 million refugees in the Darfur region of Sudan. Players must keep their refugee camp functioning in the face of possible attack by Janjaweed militias. Players can also learn more about the genocide in Darfur that has taken the lives of 400,000 people, and find ways to get involved to help stop this human rights and humanitarian crisis.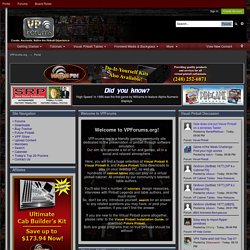 VPForums.org Home Page
Hi guys! The French Pinball Team is proud to anounce the release of the Alpha version of Unit3D Pinball ! And, to celebrate, we are also proud to annouce the website opening: Download the software from the "Download/Software" menu. Don't forget to update the vpinmame.dll (Follow the procedure described in the doc on Documentation/UserDoc).