Free music software
SAVIHost. SAVIHost is a little derivate of VSTHost that has been crafted for the sole purpose of automatically loading exactly one VSTi.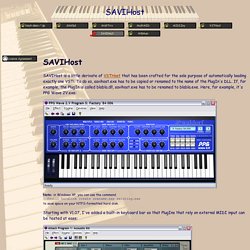 To do so, savihost.exe has to be copied or renamed to the name of the PlugIn's DLL. If, for example, the PlugIn is called blabla.dll, savihost.exe has to be renamed to blabla.exe. Here, for example, it's PPG Wave 2V.exe: Note: in Windows XP, you can use the command fsutil hardlink create newname.exe existing.exeto save space on your NTFS-formatted hard disk. TAL - Togu Audio Line: Products. VSTHost. While the program started mainly as an aid in understanding and debugging VST plugins, it has evolved into a quite capable program by now which can be really helpful in a keyboard artist's Live setup.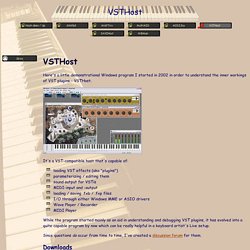 Since questions do occur from time to time, I've created a discussion forum for them. Downloads. Bundles : Komplete Players. KOMPLETE PLAYERS brings you three powerful audio platforms from Native Instruments for free, ready to use in your studio or on stage: REAKTOR 5 PLAYER, GUITAR RIG 5 PLAYER and KONTAKT 5 PLAYER.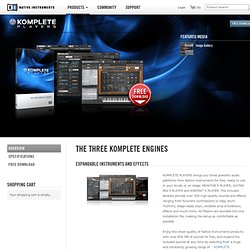 The included libraries provide over 300 high-quality sounds and effects ranging from futuristic synthesizers to edgy drum rhythms, stage-ready keys, versatile amp emulations, effects and much more. All Players are bundled into one installation file, making the setup as comfortable as possible. Enjoy the sheer quality of Native Instruments products with over 600 MB of sounds for free, and expand the included sounds at any time by selecting from a huge and constantly growing range of KOMPLETE Instruments and Effects, available directly in the NI Online Shop. The ReBirth Museum. Wavosaur free audio editor with VST and ASIO support. Free Downloads: ACID Xpress. Virtual Music Composer 3. Grow Your Own Music with MusiGenesis. Music Software - Computer Music Resources - Shareware Music Machine.
Soundation — Make music online.
---