Media plattform
Past Conferences | National Conference for Media Reform 2011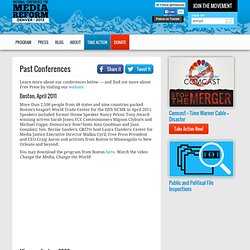 Learn more about our conferences below — and find out more about Free Press by visiting our website. Boston, April 2011 More than 2,500 people from 48 states and nine countries packed Boston's Seaport World Trade Center for the fifth NCMR in April 2011. Speakers included former House Speaker Nancy Pelosi; Tony Award-winning actress Sarah Jones; FCC Commissioners Mignon Clyburn and Michael Copps; Democracy Now! hosts Amy Goodman and Juan González; Sen. Bernie Sanders; GRITtv host Laura Flanders; Center for Media Justice Executive Director Malkia Cyril; Free Press President and CEO Craig Aaron and activists from Boston to Minneapolis to New Orleans and beyond.
Medienpolitik - Media and Politivs
Indiskretion Ehrensache — Das Blog von Thomas Knüwer
In Media Res | a mediaCommons project
Wikileaks-Alternative Openleaks: Domscheidt-Berg startet mit der "taz" und dem "Freitag"
BlaBlaMeter - wie viel Bullshit steckt in Ihrem Text?
Home
Newsfox - daily news and press releases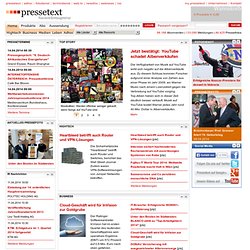 Schlauer Netgear-Stick: Der auf der CES 2014 präsentierte Android-Dongle macht TVs smart Auf der Consumer Electronics Show 2014 (CES) hat der Netwerktechnik-Spezialist Netgear den "NeoMediacast HDMI Dongle" (NTV300D) präsentiert. Ähnlich wie Googles Chromecast macht der Android-basierte Stick normale Fernseher quasi zum Smart TV.
Nachrichtenagentur
Lines of Sight
critic.de - die Filmseite. Filmkritiken, Kino, DVD, TV ...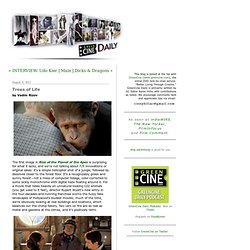 Trees of Life by Vadim Rizov The first image in Rise of the Planet of the Apes is surprising for what it lacks, and we're not talking about F/X innovations or original ideas: it's a simple helicopter shot of a jungle, followed by dissolves closer to the forest floor. It's a recognizably green and sunny forest—not a mess of computer foliage, color-corrected to some sickly monochrome with digital haze floating around it. For a movie that relies heavily on unnatural-looking CGI animals (you get used to it fast), director Rupert Wyatt's new entry in the four-decades-and-running franchise scorns the fuzzy fake landscapes of Hollywood's loudest movies; much of the time, we're obviously looking at real buildings and locations, which balances out the chimp fakery. Two cars on fire are as real as metal and gasoline at the climax, and it's positively retro.
cine DAILY
Turi2 - für Medienmacher
Pressespiegel zum Thema Film & Kino • Home • Film-Zeit