Media plattform
Past Conferences | National Conference for Media Reform 2011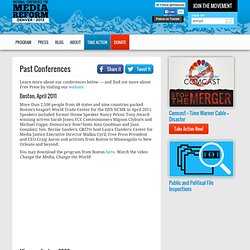 Learn more about our conferences below — and find out more about Free Press by visiting our website. Boston, April 2011 More than 2,500 people from 48 states and nine countries packed Boston's Seaport World Trade Center for the fifth NCMR in April 2011. Speakers included former House Speaker Nancy Pelosi; Tony Award-winning actress Sarah Jones; FCC Commissioners Mignon Clyburn and Michael Copps; Democracy Now! hosts Amy Goodman and Juan González; Sen. Bernie Sanders; GRITtv host Laura Flanders; Center for Media Justice Executive Director Malkia Cyril; Free Press President and CEO Craig Aaron and activists from Boston to Minneapolis to New Orleans and beyond.
Medienpolitik - Media and Politivs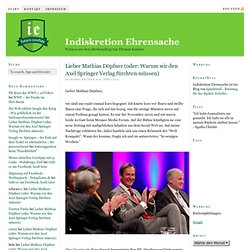 Indiskretion Ehrensache — Das Blog von Thomas Knüwer
Was für ein Jahr. Also jetzt ganz subjektiv. Wieder ein neues Magazin, kpunktnull weiter auf Wachstumskurs mit inzwischen einem Fünferteam (Bewerbungen werden aktuell übrigens gern entgegengenommen) – weshalb insgesamt in diesem Jahr hier auf der Indiskretion so wenige Artikel erschienen sind wie seit Geburt dieses Blogs nicht.
In Media Res | a mediaCommons project
Wikileaks-Alternative Openleaks: Domscheidt-Berg startet mit der "taz" und dem "Freitag"
BlaBlaMeter - wie viel Bullshit steckt in Ihrem Text?
BlaBlaMeter - wie viel Bullshit steckt in Ihrem Text? PR-Profis, Politiker, Berater, Werbetexter oder Professoren müssen hier tapfer sein! Das BlaBlaMeter entlarvt schonungslos, wieviel heiße Luft sich in Texte eingeschlichen hat. Ein praktischer Helfer für alle, die mit Text zu tun haben!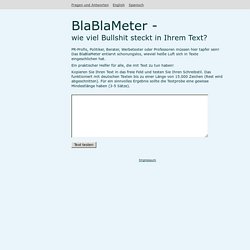 Home
Newsfox - daily news and press releases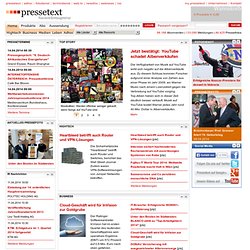 Musikalben: Werden offenbar weniger gekauft, wenn Songs auf YouTube sind Die Verfügbarkeit von Musik auf YouTube wirkt sich negativ auf die Albenverkäufe aus. Zu diesem Schluss kommen Forscher aufgrund einer Analyse von Zahlen aus einer Phase im Jahr 2009, wo Warner Music nach einem Lizenzstreit gegen die Verbreitung auf YouTube vorging.
Nachrichtenagentur
Lines of Sight
critic.de - die Filmseite. Filmkritiken, Kino, DVD, TV ...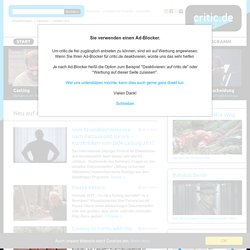 Alle neuen Artikel Blick in den Abgrund Unterschiedliche Menschen an unterschiedlichen Orten rund um die Welt – mit einer Gemeinsamkeit: der täglichen Konfrontation mit Tod und Gewalt. Barbara Eder begleitet Profiler bei der Arbeit.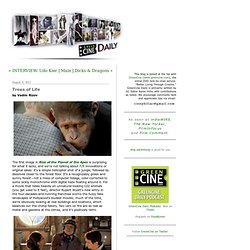 Trees of Life by Vadim Rizov The first image in Rise of the Planet of the Apes is surprising for what it lacks, and we're not talking about F/X innovations or original ideas: it's a simple helicopter shot of a jungle, followed by dissolves closer to the forest floor. It's a recognizably green and sunny forest—not a mess of computer foliage, color-corrected to some sickly monochrome with digital haze floating around it. For a movie that relies heavily on unnatural-looking CGI animals (you get used to it fast), director Rupert Wyatt's new entry in the four-decades-and-running franchise scorns the fuzzy fake landscapes of Hollywood's loudest movies; much of the time, we're obviously looking at real buildings and locations, which balances out the chimp fakery. Two cars on fire are as real as metal and gasoline at the climax, and it's positively retro.
cine DAILY
Turi2 - für Medienmacher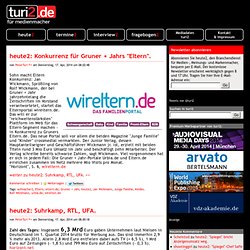 handwerk magazin macht den weitgereisten Olaf Deininger, 50, zum Chefredakteur. Deininger, der zuletzt Entwicklungsleiter beim Deutschen Landwirtschaftsverlag war, zuvor u.a. die Zeitschriften beim Deutschen Sparkassenverlag und "Prinz" Stuttgart verantwortete, folgt bei Holzmann in Bad Wörishofen auf Chefredakteur Holger Externbrink, der auch Verlagsleiter ist.kress.de Gruner + Jahr macht den Sturz seines Österreich-Statthalters Axel Bogocz offiziell: Bogocz übergibt die Verantwortung Ende Januar kommissarisch an seinen Vize Ekkehard Veser. Nachfolger Horst Pirker soll "im Frühjahr" einsteigen.
Pressespiegel zum Thema Film & Kino • Home • Film-Zeit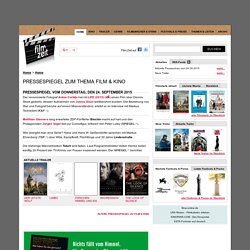 ), der diese Woche in den deutschen Kinos startet, gilt als großer Oscar-Kandidat. Auch in Steve McQueens Film gibt es Momente exzessiver Gewalt, seine schockierende Wirkung entfaltet das Drama laut Andreas Borcholte (SPIEGEL) jedoch subtiler. Matthias Greuling (TZ) spricht mit dem Golden-Globe-Gewinner Steve McQueen über Sklaverei, Obama und Brad Pitt. Über ihre Begegnung mit dem Regisseur und bildenden Künstler schreibt Katja Nicodemus (ZEIT). Dorothea Hahn (TAZ) freut sich, dass durch 12 YEARS A SLAVE endlich wieder über Rassismus diskutiert wird. Jan Schulz-Ojala (TSP) schaut auch andere Filme über die Befreiung der Schwarzen, die zeigen, dass Amerika sich - spät genug - seiner Geschichte stellt.