Recipes
23 Popsicles That Will Get You Drunk. Ooey Gooey Pumpkin Bars. Preheat an oven to 350°F (180°C).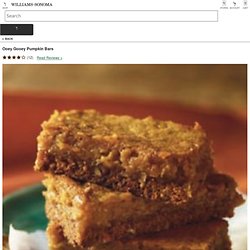 Grease a 13-by-9-inch (33-by-23-cm) baking pan. To make the crust, in the bowl of an electric mixer fitted with the flat beater, combine the quick bread mix, egg and melted butter and beat on low speed until the ingredients come together, 1 to 2 minutes. Transfer the mixture to the prepared pan and spread out evenly. 10 Easy Crock-Pot Freezer Meals | Mommy's Fabulous FindsMommy's Fabulous Finds. A couple of months ago I started meal planning with crock-pot freezer meals.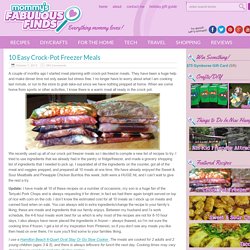 They have been a huge help and make dinner time not only easier but stress free. I no longer have to worry about what I am cooking last minute, or run to the store to grab take-out since we have nothing prepped at home. When we come home from sports or other activities, I know there is a warm meal all ready in the crock pot. We recently used up all of our crock pot freezer meals so I decided to compile a new list of recipes to try.
Trick-Or-Treat Cookies for Halloween. These Trick-or-Treat cookies have a surprise inside.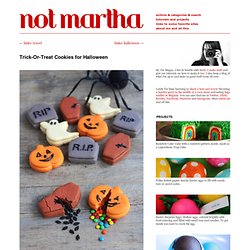 Each cookie either holds a treat, like mini chocolate candies, or a trick, here they are small sugar ants. Which will you get? You'll have to break one open to find out. How to make Trick-or-Treat cookies: Make one or more batches of cut out cookie dough (recipe below, or use your favorite) and after chilling it take it out of the fridge to warm up so it can be rolled out. Turkey Meatball Recipe. Today I made meatballs.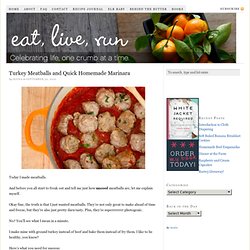 And before you all start to freak out and tell me just how uncool meatballs are, let me explain myself. Okay fine, the truth is that I just wanted meatballs. They're not only great to make ahead of time and freeze, but they're also just pretty darn tasty. Plus, they're superrrrrrrr photogenic. No? Chicken Noodle Soup. 33 Super Cool Popsicles To Make This Summer. Naturally Flavored Water. Say goodbye to soda, juice, and bottled water with these refreshing, healthy flavors!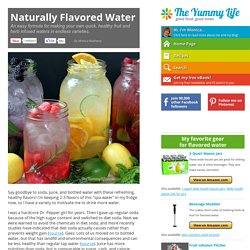 I'm keeping 2-3 flavors of this "spa water" in my fridge now, so I have a variety to motivate me to drink more water. I was a hardcore Dr. Pepper girl for years. 18 Microwave Snacks You Can Cook In A Mug. Perfect Chocolate Chip Cookie. This post is sponsored by Nestlé® Toll House® Morsels, the perfect special ingredient for all of your family's favorite treats!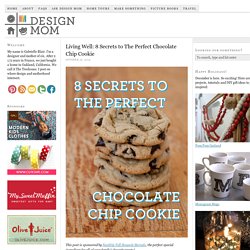 Chocolate chip cookies. Could there be a more perfect cookie in the world? And in my book, knowing how to bake them — and get a consistent outcome every time — is a basic life skill every bit as important as knowing how to properly iron a shirt. Baking chocolate chip cookies is a satisfying task, but baking them with your kids is pretty much heaven! Scrambled Eggs with Salmon « Las Vegas Food Adventures. Ever wonder what to do with that little bit of salmon filet you brought home in a doggie bag last night or the smoked salmon or lox from a party?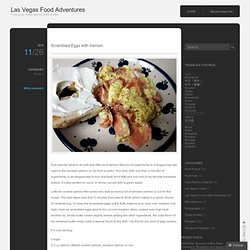 This dish, with less than a handful of ingredients, is an elegant way to turn that tasty bit of leftovers into one of my favorite breakfast dishes. It's also perfect for lunch or dinner served with a green salad. Leftover cooked salmon filet works very well as does a bit of smoked salmon or lox for this recipe. Steak fries. Grilled banana and Nutella panini. Asparagus, cherry tomato, lemon pasta.
---