Community
Concept Feedback has a vibrant, growing community of 17434 designers, developers, marketers and entrepreneurs.
Concept Feedback | Community Exchange - How It Works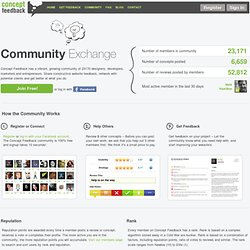 UserEcho - Customer feedback 2.0 - Listen and become smarter
Great post, Ron! These are all beautiful books, and it's hard to imagine a living sf writer as deserving of the Grand Master award as is Moorcock. Regarding his musical influence, mention must be made of the British space-rock band Hawkwind, with whom Moorcock used to perform on occasion.