Czasopisma
Get flash to fully experience Pearltrees
The 12 Technologies Forever Changing School Libraries
The question I posed at the conclusion of my last post was how do the technologies wielded by digital humanities practitioners either facilitate the work of the humanities, as it has been traditionally understood, or bring about an entirely new conception of what work in the humanities can and should be?
10-latka eksperymentowała z zabawkowym zestawem do budowy cząsteczek - budowała z kolorowych "atomów" różne konstrukcje.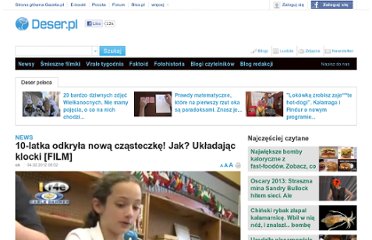 FootPath umożliwia śledzenie odwiedzających centra handlowe na podstawie sygnału z telefonu komórkowego z dokładnością do 2 m.
W 2010 roku poparcie dla przywódcy "Orbanistanu", albo "Viktatora" - jak nazywają go przeciwnicy - wynosiło 68 proc., po tym jak jego partia odniosła miażdżące zwycięstwo w wyborach parlamentarnych .
Jednym z wydarzeń rozpoczynającej się w czwartek w Warszawie konferencji Kultura 2.0, zorganizowanej przez Narodowy Instytut Audiowizualny, będzie performance belgijskiej grupy CREW.