Competitive Tools
Micro Focus i.Sight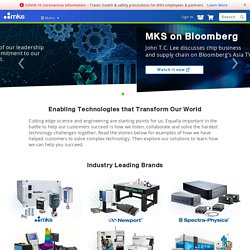 PTC
PTC Integrity, an application lifecycle management solution, that manages all global software development processes and connects all software engineering artifacts, including requirements, models, code, and test, ensuring comprehensive lifecycle traceability. PTC Integrity's open architecture integrates disparate tools into a streamlined software system engineering process, allowing orchestration of software change and collaboration across the technology supply chain. With PTC Integrity, development teams improve productivity and quality, streamline compliance and gain complete product visibility, which ultimately drives more innovative products into the market.
VersionOne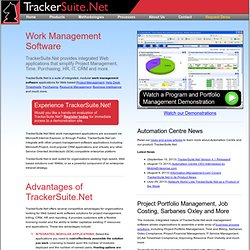 TrackerSuite.Net
TrackerSuite.Net provides integrated Web applications that simplify Project Management, Time, Purchasing, HR, IT, CRM and more. TrackerSuite.Net is a suite of integrated, modular work management software applications for Web based Project Management, Help Desk, Timesheets, Purchasing, Resource Management, Business Intelligence and much more. Experience TrackerSuite.Net!
Planisware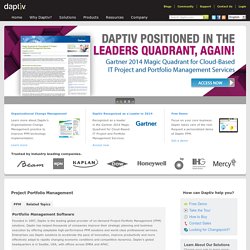 Portfolio Management Software Founded in 1997, Daptiv is the #1 on-demand PPM solution with over 100,000 subscribers. Daptiv has helped thousands of companies improve their strategic planning and business execution by offering flexible PPM solutions and expert professional services. We provide industry-leading PPM functionality, but unlike vendors that force you to change your processes to fit their tools, we've designed our solution with you and your team in mind.
Planview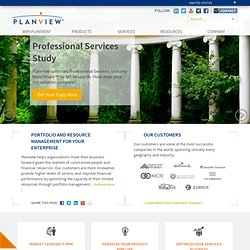 This site uses cookies to store information on your computer. Some of these cookies are essential to make our site work and others help us to improve by giving us some insight into how the site is being used. These cookies are set when you submit a form, login or interact with the site by doing something that goes beyond clicking some simple links.
SAP PPM
Oracle's Primavera P6 Professional Project Management gives today's project managers and schedulers the one thing they value most: control. Primavera P6 Professional Project Management, the recognized standard for high-performance project management software, is designed to handle large-scale, highly sophisticated and multifaceted projects. It can be used to organize projects up to 100,000 activities, and it provides unlimited resources and an unlimited number of target plans. Massive data requires sophisticated, yet highly flexible organization tools to provide you a multitude of ways to organize, filter and sort activities, projects, and resources.
Oracle Primavera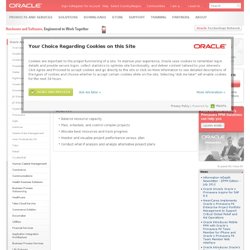 Compuware Changepoint
HP
A smart investor proactively manages his portfolio. Yet most organizations lack the information to effectively manage their investments in strategic initiatives—the data is buried in organizational silos. With the HP Project Portfolio Management Solution (HP PPM), your executives and PMOs have a dashboard view into your portfolio, demand, in-flight projects, and programs across the organization enabling smart portfolio investment decisions. HP PPM integrates and unifies the activities that manage investment prioritization and project execution within the organization – application portfolio, demand , financial, time, resource planning, resource capacity, project, program, and portfolio management.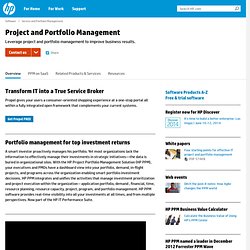 CA Clarity
Your organization needs to preserve its competitive advantage, do more with less budget and staff, and cut costs at every opportunity. The "status quo" is not an option. Organizations in every industry simply need to work smarter and innovate faster. To go beyond survival and actually thrive in these economic times, you need CA Clarity PPM.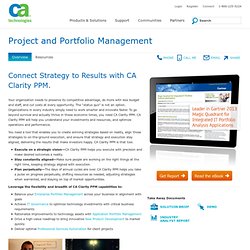 Serena PPM
As of 2011, Serena has stopped new feature development for Serena Project Portfolio Management (PPM) and Serena Mariner Portfolio Management. We will no longer develop enhancements to the current PPM product beyond the 10.2 release. Current PPM customers may still purchase add-on licenses. Customers on active support contracts will continue to receive support, critical bug fixes and patches from Serena for the foreseeable future. Capabilities of Serena PPM are now available in Serena Development Manager.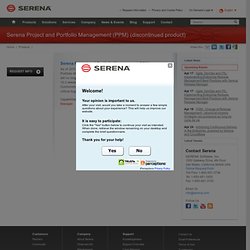 Project Portfolio Management (PPM) is a set of business management practices, methods and technology used by project managers and project management offices (PMOs) to analyze and integrate a group of current or proposed projects with other business operations such as corporate strategies, resource allocation and executive oversight. An organization can thrive or die based on its ability to achieve its strategic objectives. Accomplishing these strategic objectives requires focused efforts managed in the form of projects. To put it simply, the discipline of PPM enables your organization to align its people and projects with its strategic objectives for business growth and efficiency. PPM requires skilled people, standardized processes, and a superior technology working in unison to drive project success.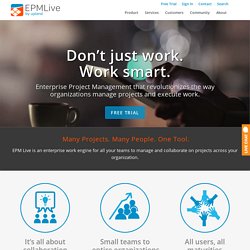 EPMLive
Change Director
+44 (0)1306 646470 | info@changedirector.com | Login / Register SolutionsHow our software can help you and your organisation to maximize return on investment (ROI). ServicesWe can help you to get started and prove the value of an investment in our software to your Executive team.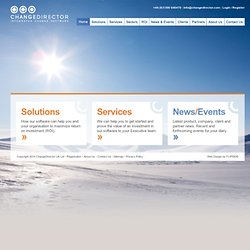 PowerSteering
Highly recommended. Primarily through word-of-mouth alone, Basecamp has become the world's #1 project management tool. For the last 10 years, companies have been switching to Basecamp because it's famously easy-to-use, reliable, and It Just Works™. Combine that with our best-in-the-biz customer service, and you've got a unique and delightful package. Just last week, another 6,119 companies started using Basecamp.