Competitive Tools
Simple Project Management Software and Invoicing Tool | Project Bubble. Projecturf - Web-based project management app, collaboration and task management software. Micro Focus i.Sight. JIRA. PTC. VersionOne.
TrackerSuite.Net. Rally. Planisware. Daptiv.
Planview. SAP PPM. Oracle Primavera. Oracle's Primavera P6 Professional Project Management gives today's project managers and schedulers the one thing they value most: control.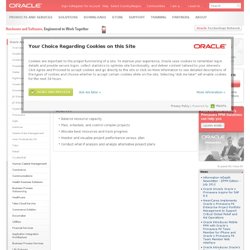 Primavera P6 Professional Project Management, the recognized standard for high-performance project management software, is designed to handle large-scale, highly sophisticated and multifaceted projects. It can be used to organize projects up to 100,000 activities, and it provides unlimited resources and an unlimited number of target plans. Massive data requires sophisticated, yet highly flexible organization tools to provide you a multitude of ways to organize, filter and sort activities, projects, and resources.
Compuware Changepoint. HP. A smart investor proactively manages his portfolio.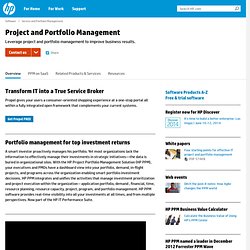 Yet most organizations lack the information to effectively manage their investments in strategic initiatives—the data is buried in organizational silos. With the HP Project Portfolio Management Solution (HP PPM), your executives and PMOs have a dashboard view into your portfolio, demand, in-flight projects, and programs across the organization enabling smart portfolio investment decisions. HP PPM integrates and unifies the activities that manage investment prioritization and project execution within the organization – application portfolio, demand , financial, time, resource planning, resource capacity, project, program, and portfolio management.
CA Clarity. Your organization needs to preserve its competitive advantage, do more with less budget and staff, and cut costs at every opportunity.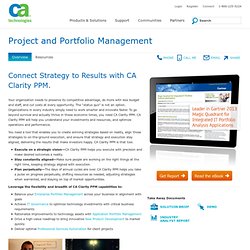 The "status quo" is not an option. Organizations in every industry simply need to work smarter and innovate faster. To go beyond survival and actually thrive in these economic times, you need CA Clarity PPM. Serena PPM. As of 2011, Serena has stopped new feature development for Serena Project Portfolio Management (PPM) and Serena Mariner Portfolio Management.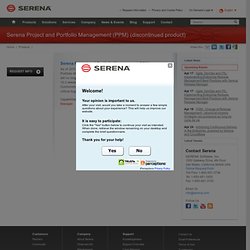 We will no longer develop enhancements to the current PPM product beyond the 10.2 release. Current PPM customers may still purchase add-on licenses. Customers on active support contracts will continue to receive support, critical bug fixes and patches from Serena for the foreseeable future. Capabilities of Serena PPM are now available in Serena Development Manager.
EPMLive. AtTask. Change Director. PowerSteering. Basecamp.
---