Art + Science
organisations journals etc;
UCLA ArtSci (uclartsci) on Twitter
Frank Malina and his fifth Wac Corporal, October 11, 1945.
Frank Malina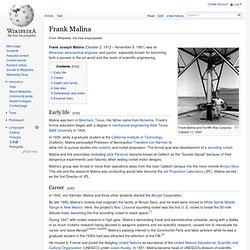 Scientist Artist Collaborations group
I am attending this working shop and am interested in any inputs or thoughts you might have. roger malina Re/Search: Art, Science, and Information Technology
UPCOMING NSF NEA WORKSHOP ON ART SCIENCE | Roger Malina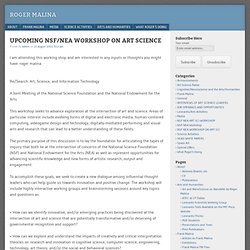 science as BIGpicture
Yasminers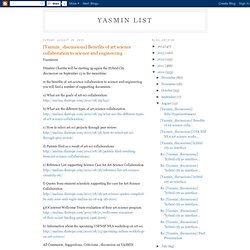 [Yasmin_discussions] Benefits of art science collaboration to science and engineering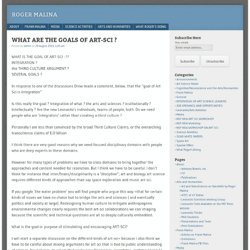 WHAT IS THE GOAL OF ART-SCI : ?? INTEGRATION ?
WHAT ARE THE GOALS OF ART-SCI ? | Roger Malina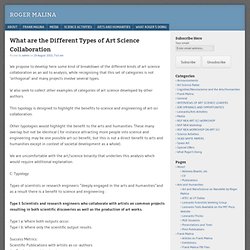 We propose to develop here some kind of breakdown of the different kinds of art science collaboration as an aid to analysis, while recognising that this set of categories is not 'orthogonal' and many projects involve several types.
What are the Different Types of Art Science Collaboration | Roger Malina
How to select Art-Sci through Peer Review | Roger Malina
Issue: How to put together traditional peer review or selection committees to evaluate and rank Art Science Proposals In the discussions so far, an issue has come up repeatedly of the problem of how to "select for funding' art science proposals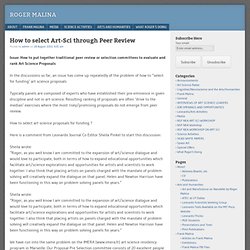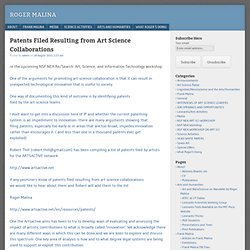 Patents Filed Resulting from Art Science Collaborations | Roger Malina
re the upcoming NSF NEA Re/Search: Art, Science, and Information Technology workshop
Stichting Passages
Visual Math
ScienceCaf .nl - Evenementen agenda voor Science Caf s in Nederl
Sprezzzatura - Adviesburo voor kunst en cultuur - Leeuwarden - F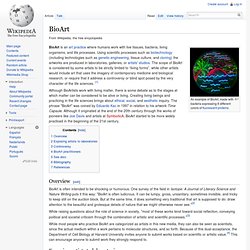 BioArt
Overview[edit] BioArt is often intended to be shocking or humorous. One survey of the field in Isotope: A Journal of Literary Science and Nature Writing puts it this way: "BioArt is often ludicrous.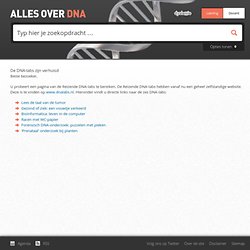 Alles over DNA: Reizende DNA-labs
Dyslexie Leerling