Survivalism/Minimalism
Would-be Hoboes: Your Dream House Has Arrived. Treehugger points us to this very clever design for a jacket with pouches in its lining that can be unfurled to reveal a personal tent.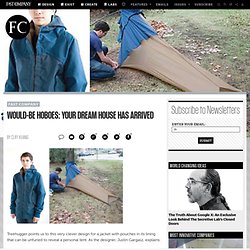 As the designer, Justin Gargasz, explains: Individuals feel the need to escape interactions in their environment everyday. Survival books to keep on your bookshelf in case of the apocalypse. How to Make an Airsoft Machine Gun from a Soda Bottle. 9 Unique Alternative Housing Ideas. Email Share If you are looking for an alternative shelter for your property, there are many options available.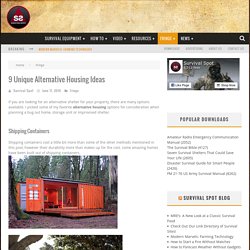 I picked some of my favorite options for consideration when planning a bug out home, storage unit or improvised shelter. Alabama Prepper's Network: Top 10 Survival Downloads You Should Have. Author: Contributing Author The following article has been generously contributed for your reading pleasure by Rourke at Modern Survival Online.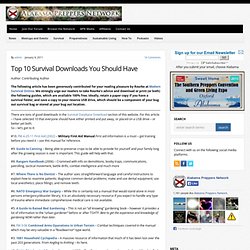 We strongly urge our readers to take Rourke's advice and download or print (or both) the following guides, which are available 100% free. Ideally, retain a paper copy if you have a survival folder, and save a copy to your reserve USB drive, which should be a component of your bug out survival bag or stored at your bug out location. There are tons of good downloads in the Survival Database Download section of this website. For this article – I have selected 10 that everyone should have either printed and put away, or placed on a USB drive – or better yet both. Best Survival Movies.
From surviving natural disasters, nuclear wars, and shipwrecks to sci-fi alien invasions and zombie plagues, survival movies cover a wide range of genres.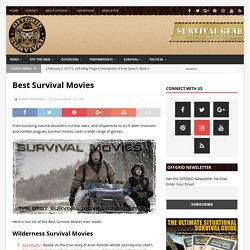 Here is our list of the Best Survival Movies ever made. Wilderness Survival Movies. Vanishing Point: How to disappear in America without a trace. Where there's water, life is possible.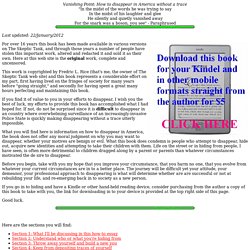 True, it may be very difficult and very hard to live, depending, but anyone who's driven, hiked, or camped in the American South West will have noticed that cities and ranches crop up where there's surface water or where there's been a well dug. Within the state of California, Nevada, Arizona, Utah, New Mexico, and Colorado, there are deserts, mesas, mountains, and forests where normally people never or rarely visit; not-so-secret places where there's water, access to a road within a day's hike, and where a fairly rugged individual may hide while remaining basically healthy, marginally well fed, and reasonably sane. In this section I'll look at two such environments, neither of which I would recommend, but one of which I'd suggest is a reasonable way to live in basic health while either on the run, hiding out from the law, old girl friends, the draft for an illegal war, putative wives and such.
Backpacking versus Thru-hiking @ Backpacking Light.
---